Wednesday/Thursday blog
I'm pushed for time today. But I'll start this blog up and see how far I get.
I came across this quote from someone called Max Horkheimer of the Frankfurt School: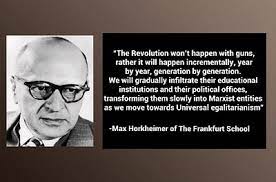 I checked the Frankfurt School on Wikipedia:
The Frankfurt School perspective of critical investigation (open-ended and self-critical) is based upon Freudian, Marxist and Hegelian premises of idealist philosophy. To fill the omissions of 19th-century classical Marxism, which did not address 20th-century social problems, they applied the methods of antipositivist sociology, psychoanalysis, and existentialism.
But I didn't understand a word of Wikipedia's description so gave up.
Max Horkheimer's quote seems to be in line with another theory of how Marxism will conquer the West – the idea of "a long march through the institutions" cutting our links to the Judeo-Christian values which form the basis for most Western societies:
Just from recent news stories we can see that it is woke, rather than Marxism, which has won. Though I suppose woke is a form of Marxism. For example, whether in politics, academia, the media, schools and even business, there is only one permitted viewpoint.
Here are just a few taboos which we are no longer permitted to mention:
there are only two genders
uncontrolled Third-world immigration may not benefit the advanced West
man-made climate change is a load of unscientific cult-like nonsense
all white people aren't all guilty of conscious or subconscious racism
colonialism might actually have brought some benefits to Africa
it is white people's racism and not Black communities' own cultural issues which causes Blacks to fall behind Whites, Indians, Chinese and, in fact, every other racial group you can think of
consanguineous marriage causes higher risks of physical abnormalities and reduced intelligence and so should be made illegal
there may be physical (for example, insulin tolerance) and other (IQ?) differences between races
and so much more
Moreover, we can see daily examples of how all our institutions have been captured by the same woke ideology. Academics expressing 'difficult' views are cancelled, shunned and often fired. The ludicrously misnamed 'civil service' has declared open warfare on any politicians daring to challenge wokeism. They went after Priti 'Useless' Patel; they got Dominic Raab; and now they're trying to bring down Suella Braverman. Over at the Equality and Human Rights Commission (EHRC) trans-activists have launched a campaign to have the Chairwoman fired probably due to her views about 'biological sex'. Apparently EHRC employees have filed a dossier of 40 (boringly predictable) complaints about her alleged 'bullying' and harassment'. The Royal Air Force has started rejecting qualified white male applicants instead preferring less qualified applicants from ethnic and sexual minorities. And our mainstream media are afraid to question any of the woke diktats mentioned above.
In addition, our life is gradually turning into a version of the Soviet Union – cold, dark, miserable, grey and totally controlled by government komissars. The obsession with Net Zero to fight totally imaginary anthropogenic climate change will impoverish 99% of us while our rulers enjoy all life's luxuries. You all know what's coming for us 'useless eaters':
15-minute cities restricting us to a small area near our homes
personal carbon budgets limiting what we can buy, how much we can heat our homes and how much we can travel
possibly new government regulations on how much space each person should be allowed in order to 'solve the housing crisis' perhaps including swingeing penalties on older people deemed to be occupying homes that the authorities judge are 'too large' for them
Zil Lanes on roads, airports etc for the lucky 1% as they jet around the world lecturing the rest of us on the need to keep cutting our CO2 emissions
and so much more
How this has been allowed to happen is a subject for someone much smarter than myself. But I note that almost every person in power today – in politics, business and academia – attends Klaus Schwab's World Economic Forum (WEF) meetings in Davos. Moreover, the 73 pages of WEF Young Leaders shows us who will be running our lives in 10 to 15 years. Here's a link:
https://www.younggloballeaders.org/our-alumni-community
This link gives you access to the 73 pages of the smiling, happy, privileged people who are moving seemingly effortlessly into top positions in politics, academia, media and business and so will be controlling your lives in the near future.
Current leaders who are also alumni of the WEF Young Leaders programme include Saint Jacinda Ardern of New Zealand, the vertically-challenged Emperor Emmanuel 'Napoleon' Macron of France and Leo Varadkar former Taoiseach of Ireland. Facebook's Mark Zuckerberg is also a WEF Young Leaders programme alumni.
I'm not suggesting some evil, James-Bond-villain conspiracy, with Klaus Schwab as the cat-stroking mastermind, to take over the world. But I am suggesting that with our current rulers and our future rulers (often WEF alumni) there is a shared mindset that we useless eaters need to be restricted and controlled; that concepts such as communities, countries, borders and patriotism need to be destroyed mainly through mass immigration; and that the world would be best governed by unelected and unaccountable internationalist organisations rather than elected national governments.
Anyway, I have to go now. But hopefully there are a few issues here worth considering.