(Monday blog)
Trump predicted the fascist leftists' statue destruction
Here's a very brief piece of video from 2017 in which President Donald Trump virtually predicts that the US-hating, West-hating, supposedly 'woke', fascist leftists would start tearing down statues of anyone they chose to disapprove of.
The rest of the world was asleep, totally unaware of the cultural pogrom about to be unleashed. But three years ago Trump could already sense the destructive intolerance of the self-righteous, historically-ignorant, virtue-signalling, free-speech-loathing leftists and anarchists. The leftist, fascist anarchists first hid behind the LGBT, then the Not My President, then the Russian Collusion, then the Extinction Rebellion, then the anti-Transphobia and now the Black Lives Matter banners as they try to impose a Pol Pot type Year Zero on us all by rewriting history, destroying all traces of our heritage and forbidding any opinions except their own.
Once the protesting garbage have torn down the statues, I guess they'll start burning books. After all, even someone as (IMHO) left-wing and liberal as J K Rowling has become a hate figure for the Antifa mob for daring to suggest that one's sex was biological and not something one could choose depending on the day of the week. Moreover, some employees at her publishers are refusing to work on her latest children's book because they feel offended by her supposedly 'transphobic' tweets.
And Nigel Farage had to leave radio station LBC apparently for correctly likening the fascist, statue-wrecking BLM mob to the Taliban.
Unfortunately, the leftist, fascist scum are enthusiastically supported by much of the mainstream media. In the UK the BBC and C4 News never take a break from spewing out their anti-West, anti-white propaganda. And in the US there are CNN and MSNBC and the Washington Post and the New York Times and many others pumping out the anti-West message.
Here's Trump from a 2017 press conference asking whether people would soon start tearing down statues of US founding fathers George Washington and Thomas Jefferson. At the time, Trump was brutally mocked and ridiculed by the usual mainstream media commentators (including, of course, the BBC) for deranged ranting.
Yet last week, in Portland Oregon statues of both George Washington and Thomas Jefferson were attacked, covered in red paint and the George Washington statue torn down because both men were known to have owned slaves: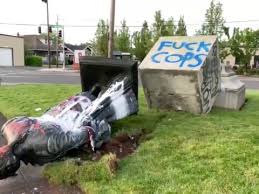 I doubt any of the mainstream media will now be apologising to Trump.
As our useless government cowers and 'takes the knee' in submission to the fascist, free-speech-hating, West-loathing Antifa mobs and as £200,000- to £300,000-a-week Premier League footballers (about 30% of whom are from BAME backgrounds) bleat their support to fighting against supposed 'racism', Trump is the only voice of sanity in a world gone mad and is our only hope to save Western civilisation: