(Tuesday blog)
Before I get on to the serious stuff, here are just three small remarks
Remark 1 – Chicago shootings reach record high
Chicago officials report the city's highest number of shootings in a single weekend this year. From Friday evening to Monday morning, 102 people were shot, 14 of whom have died, five of those killed were minors.
From previous crime statistics from Chicago, I suspect that the majority of those shot were African Americans who were shot by young African American men. Young African-American men make up around 3% of the USA's population but are responsible for about 50% of the country's murders.
I doubt the Black Lives Matter protestors will be protesting about that
Remark 2 – Did nobody notice the AK47 medallion?
The mainstream media have been twisting and turning and tying themselves in knots in their attempts to suggest that the Reading murders had nothing to do with our most favouritest religion. For a start the media keep suggesting the murderer had the usual "mental health problems" and keep referring to the murders as an "incident". I suspect that if a white supremacist had been responsible for killing three multi-cultural enrichers, we would be seeing and hearing words like "slaughter" and "park massacre" rather than the rather mild "incident".
The media are also making much of the claim that the murderer had converted to Christianity and had a tattoo of a crucifix. That may or may not be true. But what I noticed was that the scumbag had a habit of wearing a AK47 medallion: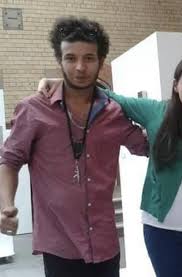 As far as I know, an AK47 is not generally considered a symbol of Christianity and peace and love and suchlike. Once again I suspect that had the murderer been a white supremacist killing enrichers, such a medallion would have been used by the media to paint the worst possible picture of the murderer. But as the murderer seems to have been a member of the bestest religion in the world, none of the media seems to have noticed the AK47 medallion and what it might suggest about the murderer's real beliefs.
Remark 3 – "White Lives Matter" is offensive
Apparently some Burnley football fans commissioned a plane to fly over a stadium, where their team were playing, trailing a White Lives Matter banner while all the players and officials were kneeling in subjugation to the fascist Black Lives Matter mobs: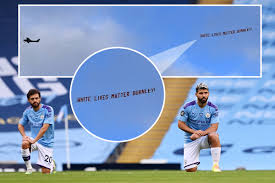 This has been met with outrage from the players, football officials and media. It seems that suggesting "White Lives Matter" is racist and offensive etc etc and Burnley Football Club have threatened to ban the fans responsible for the racist, offensive banner.
Great news about your virgins!
And now to the main subject of today's blog – some great news about your virgins. I'm sure this will delight readers. Well, maybe just male readers. Well, maybe just male readers who intend to get to Paradise by murdering a few worthless, less than human, infidel non-believers.
Anyway, an Izlumic scholar has spoken out. OK, I realise that the words "Izlumic scholar" may be an oxymoron. And this guy really is (IMHO) a moron. But anyway, Gaza Izlumic scholar Ahmad Khadoura said in a video that was uploaded to the YouTube channel of the Gaza-based Ibn Baz Association on May 8, 2020 that Allah created the virgins in Paradise for the believers. He said: "There will be no menstruation, no childbirth, no saliva, no mucus, no urine, and no excrement.
Moreover, he said that each man will have the sexual strength of one hundred men. That will obviously be useful when you have to service your 72 virgins every day without even a break for menstruation or childbirth or toilet visits: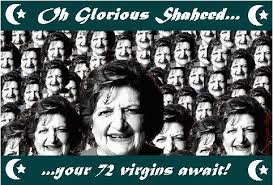 Here's the link to this great Izlumic scholar's words of wisdom:
https://www.memri.org/reports/gaza-islamic-scholar-ahmad-khadoura-virgins-paradise-will-have-no-menstruation-saliva-mucus
If this tripe is being produced week after week after week by the leading intellects from our bestest religion, it's hardly any wonder that a cynic and racist and Izlumophobe might be tempted to conclude that our favouritest religion has made a rather modest contribution to human progress over the last hundred or more years: