Let me introduce Linda 'Lin' Homer, possibly the most dangerously incompetent woman in Britain. Yes, possibly even worse than our beloved Baroness Ashton whose negotiating skills allowed the crazies in Iran to develop nuclear weapons and whose insistence that Ukraine choose between Russia and the EU started a minor civil war. Like Ashton, Lin has a long and undistinguished history of botching, bungling and general uselessness.
In 2002 Lin was made the £174,000 a year Chief Executive of Birmingham City Council where she was responsible for a major postal votes scandal that ended up before the courts. Election judge Richard Mawrey said fraud in the city 'would have disgraced a banana republic' and claimed Ms Homer, who was the city's returning officer in her role as chief executive, had 'thrown the rule book out of the window'.
Following this, in 2005 Lin was chosen by the Home Office to run what was then called the Immigration and Nationality Directorate – this time on £200,000, plus bonuses. She inherited a department which was already in chaos, with asylum claims piling up and staff badly demoralised. But it was on her watch in 2006 that we learned of the mistaken release of 1,000 foreign criminals. The scandal cost then home secretary Charles Clarke his job. His successor, John Reid, declared the immigration system 'not fit for purpose'. The same year it emerged some 450,000 asylum cases had not been dealt with but left in boxes at the Home Office. These cases would take more than 25 years to clear and so the people involved will almost all be allowed to remain in Britain.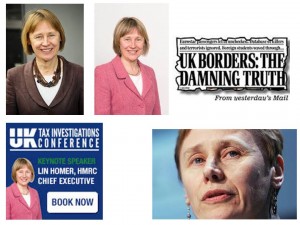 The shake-up that led to the creation of UKBA was meant to clear up the mess and stop similar scandals happening in future. After playing a key role in shaping the new agency, Ms Homer became its first chief executive, on an astonishing £208,000 a year, making her among the highest paid civil servants in Britain.
But her tenure was marked by a string of bad news stories and a series of highly critical reports of UKBA by MPs who concluded she was guilty of a 'catastrophic' failure of leadership during her time at UKBA.
But, of course, in Britain's Civil Service incompetence, stupidity and bungling are not punished. In fact, they are usually rewarded.  And so it was with Lin. In 2012 she got her biggest job to date – running HMRC on a salary of about £180,000 a year. While at HMRC Lin has presided over a fiasco that left millions of workers with the wrong tax code and facing hefty bills. Then came cosy 'sweetheart' deals which let Goldman Sachs off a £10m tax bill and Vodafone avoiding hundreds of millions. And, of course, companies like Amazon, Google, Starbucks and others don't even know what tax is.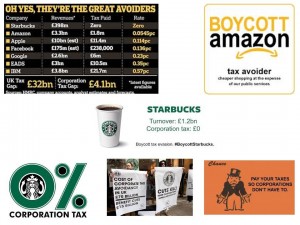 That's the incompetence. But now comes the dangerous bit.
Ms Homer believes that around 17,000 people owing on average £5,800 each are deliberately delaying paying HMRC. So she wants to overturn the whole basis of British law – that one is innocent until proven guilty – and be allowed to take this money directly from people's bank accounts. Suddenly we are, in Ms Homer's eyes guilty and are to have our assets confiscated by her bungling, incompetent officials without any proper due process.
Let's look at the numbers. If 17,000 people owe an average of £5,800, that's £98m. Income tax receipts in 2012/3 were £155m. Lin's outrageous example of bureaucratic unaccountability would be aimed at 17,000 out of 33,000,000 UK taxpayers. So, for the sake of 0.064% of revenue due from an asserted 0.05% of UK taxpayers, this worthless bureaucrat wants to overturn the civil rights of all of us.
Naturally, Lin claims this would only be a 'special measure'. But how often have we seen 'special measures' become the norm? Remember, income tax was first introduced as a 'special measure' in 1799 to help pay for the Napoleonic Wars.
Lin Homer should have been fired years ago. We must not let this ghastly bureaucrat destroy the whole basis of British law as she tries to make up for her own department's incompetence.