By an extraordinary coincidence, there have been no less than three reports published in the last month claiming either that immigration is good for Britain or that old people are a burden for Britain or both at the same time.
First was a report by the OECD which laughably tried to prove that immigrants contributed more in taxes than they took in public services.
Then, last week the useless, sycophantically-obedient Office for Budget Responsibility produced a report concluding that the more immigration Britain had, the better off our economy would be. No doubt the head of the OBR, Mr Robert Chote, will get a knighthood or CBE for producing what is IMHO misleading government propaganda.
And yesterday, the OECD was at it again with yet another report – this time  highlighting the supposed burden of the elderly. As one newspaper wrote  – "Ageing population pushes welfare bill to crisis point. Britain's rapidly ageing population threatens to push the NHS and state pension system to the brink of collapse, according to an international study that found almost a quarter of the UK economy is consumed by social welfare".
Here's a nice picture of immigrants camping out in the centre of London: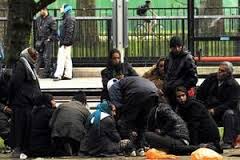 I wonder how the OECD and the OBR consider these people are contributing to Britain's economy.
How come we get three similar reports at the same time? Coincidence? Or is it because our leaders and masters know that we are fed up of uncontrolled immigration: we are fed up of our hospitals looking like Third World butchers shops: we are fed up of our schools being unable to teach anything because too many children don't speak English: we are fed up of our parks and streets looking like refugee camps and people are rightly fearful of what is going to happen from January 2014 when millions of Romanians and Bulgarians will be able to come to Britain and earn five to ten times as much on benefits here as they can get from working in their own countries?
Our leaders have handed over control of our borders to the corrupt, wasteful bureaucrats in Brussels who hate the idea of independent countries as they try to construct their European superstate. There seems to be a concerted campaign by the elites to justify opening up Britain as a dumping ground for almost anyone from anywhere in the world. Then when we're swamped by 100,000 new migrants a year, our leaders will point to the three reports and try to claim immigration is necessary to support Britain's ageing population.
Eventually, when our masters find out that immigration is actually costing us tens of billions a year, destroying our society and wrecking our economy, will this be their next great idea?