Wednesday/Thursday blog
Australia – floods of lies, a drought of the truth
I guess you all know that there are massive floods in Sydney and more than 50,000 people have been advised to leave their homes.
I know I cover the issue of Australian floods in my book – THERE IS NO CLIMATE CRISIS. So, apologies to readers who have read the book. But as the BBC and C4 News are so busy bleating and moaning about how Australia's current floods are yet more proof of the supposed Climate Change Armageddon facing us all, I couldn't resist the temptation to point out, yet again, what a load of unsubstantiated nonsense the climate catastrophists' claims are.
In 2008, the Head of Climate Analysis at the Australian Bureau of Meteorology – reportedly "one of the nation's most senior weather experts" – warned that drought might be the "new climate" for Australia due to supposed man-made Global Warming caused by burning fossil fuels:
This, of course, delighted the climate catastrophists as it was yet more evidence that burning fossil fuels would lead to disaster and turmoil and extinction and so on and so forth.
Unfortunately for the climate catastrophists, Australia's great weather expert couldn't have been more wrong as the Australian floods of their winter 2010/2011 were so severe that they reportedly caused the world's sea level to drop: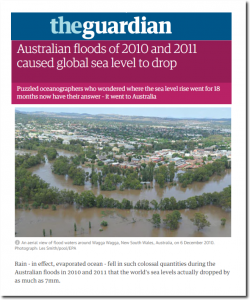 No problem, the climate catastrophists just changed their story from 'Global Warming will fry us all' to 'Climate Change extreme weather events will kill us all' as extreme weather becomes more frequent:
But the climate catastrophists' dire predictions of Australia's weather alternating between a Mad Max drought-blasted wasteland and Waterworld-style floods seems to ignore the inconvenient fact that a newspaper article from 1847 showed that during the period from 1789 to 1846 – Australia's weather did exactly what the climate catastrophists predicted for the future – alternate between extreme droughts and extreme floods: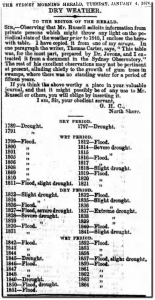 (left-click on images and then left-click again to see more clearly)
And this was long before anyone had thought of trying to terrify us all into cowering submission  to draconian restrictions on our lives in the supposed "battle against Climate Change".
From climate nonsense to vaccine nonsense
And while we're on the subject of our rulers' scare-stories, yet more evidence is emerging that for most age groups, the risks of the 'miracle vaccines' outweigh the benefits.
Here (in blue text) is a summary of the conclusions of a recent clinical study comparing Adverse Events from the vaccines:
Covid-recovered people have natural immunity that is stronger than vaccine-induced immunity. So, the benefit of vaccination is – at best – minimal. If the risk of adverse reactions is the same as in the randomized trials, there is a negative risk-benefit difference. Why are we mandating people in this group to be vaccinated? It is both unethical and damaging to public health.

While everyone can get infected, children have a minuscule risk of covid mortality. There is very limited safety data from the trials on children. If the risk of adverse reactions is the same as for adults, the harms outweigh the risks. Children should not receive these vaccines.

Older people above 70 have a much higher risk of covid mortality than the population in the Fraiman study. If their risk of adverse reaction is the same, then the benefits outweigh the harms. Hence, older people who have never had covid and are not yet vaccinated may benefit from these vaccines. However, we do not know if they are better than the Johnson & Johnson and Astra-Zeneca vaccines.

It is unclear from the clinical trial data whether the benefits outweigh the risks for working-age adults who have not been vaccinated and who have not already had covid. This is true both historically, for the original covid variants, and currently for the newer ones.

The Fraiman study analyzes data after the first and second doses. Both risks and benefits may differ for booster shots, but no randomized trial has properly evaluated the trade-off.
Are US mainstream media starting to question vaccine theology?
Furthermore, here's an article from one US mainstream media – Newsweek – pointing out that there is absolutely no data justifying the vaccination of younger age groups and suggesting, yet again, that vaccination is a political rather than a medical decision – having forced vaccines on us, our Big-Brother rulers are terrified that, if they suggest the under-5s shouldn't be vaccinated, people might start questioning whether the 5-12-year-olds should have been vaccinated or the 12-18-year-olds, or even the 18-25-year-olds or the 26-35-year-olds and so on and so on:
https://www.newsweek.com/why-america-doesnt-trust-cdc-opinion-1713145
And our rulers can't allow us ignorant, unwashed plebs to question their wisdom, motives and decisions.
So the vaccine parade rolls on with all over-50s in the UK to be offered yet another booster in order to yet again "save the NHS".
Silence isn't always golden
Meanwhile, none of our politicians nor any mainstream media seem to be showing the slightest interest in how the Chinese plague, which has killed 5 to 10 million people and impoverished a few hundred million, started.
It's all very odd, isn't it?