Wednesday/Thursday blog
One of the greatest fallacies of the 'modern world' may be the notion of 'progress'. We imagine the entirety of history as culminating in a Darwinian march toward Western Civilisation. We think of our 'progressive values' of liberalism, self-indulgence, materialism, universal human rights, multiculturalism… to be uniquely 'enlightened'.
Such is our conviction that ours is the ultimate civilisation that there was even a bestselling book in 1992 titled The End of History and the Last Man by American political scientist Francis Fukuyama which argues that with the ascendancy of Western liberal democracy—which occurred after the Cold War (1945–1991) and the dissolution of the Soviet Union (1991)—humanity has reached "not just … the passing of a particular period of post-war history, but the end of history as such: That is, the end-point of mankind's ideological evolution and the universalization of Western liberal democracy as the final form of human government".
What arrogance. What hubris we had. But now some of us unfortunately know better.
Moreover, what we are going through is nothing new. Civilisations have gone through the same processes over millennia, recorded by the sages of Greece, Rome, Egypt, Arabia, Aztec America, India. Each one has looked around itself, seen its own superiority and believed in its own durability. And each one has been proved horribly mistaken.
There seem to be three main issues which are destroying Western civilisation – mass immigration, the rise of China and our own self-hatred.
Issue 1 – Mass immigration
In his 2018 book The Strange Death of Europe Douglas Murray provided probably the best analysis of a continent and culture caught in the act of suicide. With declining birth-rates and allowing/encouraging (delete as appropriate) mass immigration of people who hate us, hate our culture and hate our freedoms and want to turn our countries into the backward, excrement-strewn hell-holes from which they came, we are signing our own death warrant.
Moreover, the population of Africa and the Middle East is increasing by over 50 million a year – more than one million a week:
Anyone who thinks all these hundreds and hundreds of millions are going to stay in the corrupt, godforsaken, poverty-stricken dumps where they were born really needs a brain implant.
Issue 2 – The rise and rise of China
It may be a mistake to think of China as just a country. The population of China is over 1.4 billion. The total population of the supposedly advanced West (Europe, North America and Australia) is only around 1.3 billion. So China is more than a country. It's more like a continent. Or an empire. And China is an empire that is expanding its global power.
Wherever you look – whether at global trade – here are some of the ports owned by Chinese companies controlled by the Chinese Communist Party: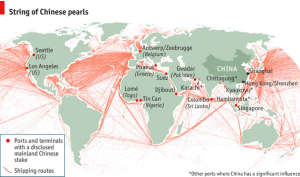 Or at control of our planet's key resources – here is the share of the planet's rare earth metals produced by Chinese companies controlled by the Chinese Communist Party:
China is in the ascendancy.
Most of Africa – the world's richest continent in terms of natural resources – will soon be owned by the Chinese. For example, a Chinese company controlled by the Chinese Communist Party has just taken over the main airport in Uganda because the Ugandan government (having looted their own country) didn't have the money to pay the interest on a loan from the Chinese Government.
Some Western observers see the (Chinese-sponsored?) military coup in Myanmar as a country taking a step backwards from a form of democracy to a military dictatorship. But as Chinese power grows and the West becomes increasingly irrelevant, perhaps Myanmar is a symbol of the future – a future where Chinese economic power supports brutal dictatorships in order for the Chinese to get access to each country's resources? And when China is your main trading partner, you can pretty much ignore threats of sanctions from an increasingly impotent West.
The progressive, virtue-signallers like to berate us about the horrors of past colonialism. But Western colonialism, in spite of its many faults, did bring many benefits to many countries. As China dominates the world, I suspect that Chinese colonialism – as the people of Myanmar are finding out –  is not going to be as benign to those colonised as Western colonialism was.
Issue 3 – The West's self-loathing
This is the most incomprehensible of the three issues – the loathing the West's pampered elites have for what is probably the most successful, most egalitarian, most scientifically-advanced civilisation in the history of mankind.
While our enemies look on in disbelief, the West is tearing itself apart in ludicrous identity politics conflicts. Our Chinese and Russian and African and South American 'friends' don't spend their time agonising over how many genders there are or what pronouns to use or whether biological men should be allowed to use female toilets and changing facilities and be placed in all-female prisons.
But the greatest act of self-harm the West is inflicting on itself is the absurd obsession of the Greta-worshipping, climate catastrophists with destroying all the benefits of a technologically-advanced lifestyle by taking us all back to a pre-industrial level of misery and poverty.
In my book THERE IS NO CLIMATE CRISIS, I introduced the idea of 'Oikophobia.
Oikophobia comes from the Greek oîkos – 'house, household' and phóbos – 'fear'. One definition of oikophobia is a 'hatred of one's country or compatriots' or 'the felt need to denigrate the customs, culture and institutions that are identifiably those of your own country.'
The theory behind oikophobia is that it is nothing new. Instead it's a natural phase in the decline of many civilisations. Each civilisation starts to form. Initial successes against other peoples allow it to grow becoming more powerful and wealthier and a sense of shared identity is forged. With success, each civilisation creates a leisure class and even those lower on the social scale can work to advance themselves towards having at least some of the accoutrements of the wealthier leisure classes.
At the zenith of its success, each civilisation starts to believe that it is invincible and therefore not under any existential threat from external forces or peoples. Rather than enjoying the achievements of that civilisation, some groups within it turn on each other in what Freud has called the 'narcissism of small differences' – today's identity politics and culture wars. Then that civilisation starts disintegrating into largely trivial, but increasingly poisonous, internal squabbles in which there is at first mutual incomprehension and then mutual loathing between the warring cultural tribes who try to impose their beliefs on everyone else.
Meanwhile, our enemies look on and gloat as we decline and they rise and rise and rise.