Thursday/Friday blog
Today, hopefully here's a not unimportant story I rather doubt you'll find reported anywhere in the fearmongering, propagandist mainstream media. After all, the point of a blog like this is not for me to pontificate about stories that you can read in other places, but to try to find stories that nobody else chooses to mention.
Testing, testing, testing
According to a government website, around 920,068 RT-PCR tests are conducted each day and about 336,750,439 have been carried out in total since the Fauci Wuhan Chinese plague first hit us.
If each test has cost UK taxpayers or UK citizens say £50, that's £16,837, 550,000 (£16bn) we've spent on these tests. As £16bn is quite a lot of money, you would hope that these RT-PCR tests are pretty amazing at detecting those people who are at risk of spreading Xi Pingpong's lab-engineered and lab-leaked plague.
Did the inventor warn us?
Often heralded as one of the most important scientific advances in molecular biology, PCR revolutionised the study of DNA to such an extent that its creator, Kary B. Mullis, was awarded the Nobel Prize for Chemistry in 1993.
There has been quite a lot of activity on social media and conspiracy websites claiming that the inventor of the RT-PCR test said it couldn't be used to detect Covid-19. But these must be misinterpretations as Kary Mullis, who was born in 1944, died on 7 August 2019. The first cases of Covid-19 were reported by officials in December 2019 in Wuhan, China.
So Mullis could not have made any specific commentary on the effectiveness of using PCR testing for Covid-19. However, from the tiny amount I understand, what Mullis did comment on was that when testing for HIV, depending on the level of amplification used in the test, "If they could find this virus in you at all, with PCR, if you do it well, you can find almost anything in anybody".
The smoking gun?
But things do start to get a little more interesting when we move away from social media conspiracy websites and instead look at an official UK government guide to using RT-PCR tests.
Just to prove I'm not a crazed conspiracy spreader, here's the link to the 12-page document:
https://assets.publishing.service.gov.uk/government/uploads/system/uploads/attachment_data/file/926410/Understanding_Cycle_Threshold__Ct__in_SARS-CoV-2_RT-PCR_.pdf
The possibly worrying part of this official UK government guide comes on page 6:
RT-PCR detects presence of viral genetic material in a sample but is not able to distinguish whether infectious virus is present.
This seems to be suggesting that the test can identify if you have traces of the virus in your body – which I imagine is fairly useful. But it cannot identify if you are infectious and therefore would need to isolate to prevent you passing the virus on to other people. Yet our rulers and their supposedly 'scientific' advisers keep blethering on about how many tests they have done, how many people have tested positive and how important these tests are to getting infected people to isolate to protect the saintly NHS.
So, while an ingénue might be overjoyed that we have spent £16bn or so on RT-PCR tests, a cynic might be tempted to conclude that the tests are of dubious value and that all the testing and mask-wearing and lockdowns and other restrictions are more about spreading fear to enable social control than actually trying to save lives.
Those Swedes aren't turnips
And to finish off this blog, let's remember the Chinese plague survival rates:
And let's remember how few people were hospitalised in Sweden where the government didn't use mass RT-PCR testing to conjure up apocalyptic figures of infections to terrify that country's citizens' into cravenly abdicating their freedoms and allowing their economy to be trashed.
I believe that the Swedes did some modelling of expected ICU patient admissions using the techniques developed by the Bonking Boffin, Professor Neil Ferguson, at Imperial College in London.
The predictions are the two impressively high 'mountains' on the chart. The actual level of patients in ICU units in Swedish hospitals is the boringly flat thick blue line: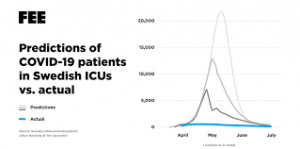 (apologies that I don't know how to make such charts more legible)
Here's the link to the chart and the accompanying article:
https://fee.org/articles/sweden-s-actual-covid-19-results-compared-to-what-modelers-predicted-in-april/