(weekend blog)
I obviously haven't a clue about what is really happening in the NHS. Though I have ghost-written and published one book about the NHS – WHO CARES? by Amanda Steane and I was married to a (female) cancer surgeon for over 20 years. But I have a nagging suspicion that in many A&E departments staff are sitting around much of the day with little to do and that many hospital wards are almost empty as they wait for the great supposed tsunami of Chinese plague victims predicted by 'experts' like Imperial College's Professor Penis and the Government's Dr Gloom and Professor Doom: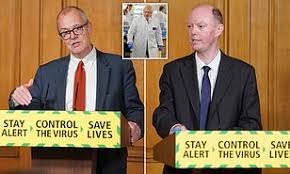 It was, of course, Gloom and Doom who produced their ludicrously exaggerated (and quickly debunked) 'scenario' with 4,000 Xi Pingpong plague deaths a day in the UK even though this is about four times the Covid-19 death rate of a country like India which has about twenty times the population of the UK and probably 80% of the population without any proper medical care.
For me, the 4,000 deaths a day scenario was Doom and Gloom's 'Colin Powell moment':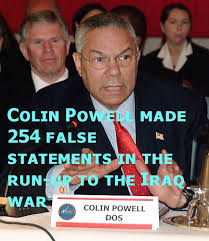 the moment they lost all credibility.
Moreover, I get the impression that it would be easier to break into Fort Knox than it would be to get into many GP surgeries.
My own limited personal experience is that it is close to impossible to see my GP, in spite of the massive taxes I pay to support our 'wonderful' NHS that is 'the envy of the world'. Though I am allowed to send messages through a complicated on-line consulting system and get brief rather dismissive emailed replies from my GP.
When I did have to go to the surgery to have my blood pressure measured, I found that I couldn't go to my usual surgery as the machine there was broken, no medical staff would be available to take my blood pressure and nobody had any idea when the machine would be repaired. However, I was told to make an appointment to use the machine at the practice's other surgery a few miles away. When making an appointment to use the machine that did still work, without actually being allowed to come into contact with any medical personnel, I found I could go at any time on any day as no other patient would be using it. And while at the surgery measuring my own blood pressure, I didn't see any sign of any doctors or any other patients in what used to be a very busy practice.
As for the normally busy receptionist, she apparently had so little to do that I had to wait almost 10 minutes ringing the surgery bell every few minutes just to get into the locked surgery as the receptionist was away from her desk chatting with some of her chums possibly because there was no need for her to stay at her desk as she had little to nothing to do.
I wonder where all the patients have gone? And I wonder what our doctors do all day?
I'm sure there are a few hospitals up north full of whining Scousers and moaning Mancunians who did catch the virus as they chose to get pissed in large groups rather than maintaining the social distancing that most of the rest of us reluctantly adopted. But are most of our 'wonderful' hospitals run by our 'wonderful' NHS really full to bursting point?
Instead of me writing a blog this weekend, I'd like to refer you to this Daily Mail article written by journalist Ross Clark (click on link below)
https://www.dailymail.co.uk/news/article-8971669/What-DONT-tell-Covid-facts-twisted-strike-fear-hearts.html
Throughout the Chinese plague (media-induced?) panic, most mainstream media supposed journalists have desperately tried to outdo each other in writing/fabricating the worst 'shock/horror' headlines they could possibly think of. Ross Clark has been one of the few admirable exceptions. Instead of flatulently hyperventilating about the supposed catastrophic disaster that so many other journalists have irresponsibly and self-servingly hyped up in order to further their own lousy careers, Ross Clark has forensically analysed, and often dismantled, the Government's hyperbolic figures and predictions as our rulers tried to bludgeon us into terrified submission.
I really am beginning to wonder whether our 'wonderful' NHS is actually doing any work at all.