(Wednesday blog)
Yesterday I wrote a blog which tried to show how the numerically-illiterate Johnson and his equally clueless cabinet colleagues were putting England into a totally unnecessary lockdown based on misleading data from our friends Vallance and Whitty.
A few hours after I wrote the blog, I found this excellent article in the Daily Mail:
https://www.dailymail.co.uk/news/article-8908503/Was-lockdown-sold-LIE-Oxford-scientist-says-4-000-deaths-graph-NOT-used.html
While virtually every other media outlet has swallowed Vallance and Whitty's ludicrous numbers, the Daily Mail article rips them apart and exposes them for the utter garbage they are.
In particular, the article points out that according to Vallance and Whitty's famous scenario, we should be seeing around 1,000 Xi Pingpong plague deaths a day. In fact, there are just over 200 Chinese plague deaths per day:
A cynic might think that any honest person would adjust their projected level of Covid-19 deaths to take account of reality. That's not what Mr Vallance and Mr Whitty seem to have done.
Furthermore the media, particularly the worthless BBC and even more worthless C4 News, delight in scaring us by quoting the number of Wu-flu deaths per day. But they never put this number into context of the total number of deaths from all causes. If they were honest about Wu-flu deaths as a proportion of total deaths, people wouldn't be so frightened and Johnson, Vallance and Whitty wouldn't get away with their lockdown scam: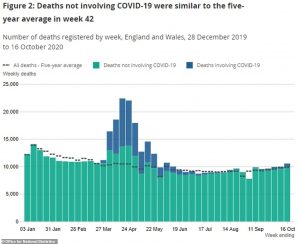 There was also another brilliant article in yesterday's Daily Mail exposing how our rulers manipulated the figures to create the (totally false) impression that the NHS was about to be overwhelmed by Covid-19 cases:
https://www.dailymail.co.uk/news/article-8907339/How-No10s-experts-shamelessly-manipulated-data-terrify-England-locking-down.html
I didn't see all the Johnson, Vallance, Whitty briefing. But apparently they just showed data from about 29 hospitals which did have large numbers of Chinese plague victims: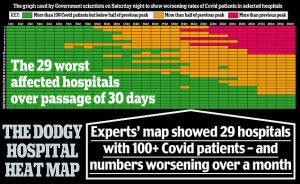 But Vallance and Whitty  'forgot' to mention the 232 hospitals with no Chinese plague patients at all:
(I think there's a mistake in the above chart from the Daily Mail. It's the 'white boxes' and not the 'light yellow boxes' which show the hospitals with zero Chinese plague cases)
The next few weeks of lies
It's highly likely that the number of Wu-flu cases will decline over the next few weeks as this was already happening before the lockdown announcement. The politicians and compliant media will claim that this reduction is due to the lockdown. However, as my blog from yesterday and the Daily Mail articles show, this would have happened anyway.
We also know that there is a lag of 2 to 3 weeks between a rise in infections (the lead indicator) and the rise in hospitalisations, ICU admissions and deaths (the lag indicators). So we can expect huge efforts by politicians and the media to big up the rising numbers of hospitalisations, ICU admissions and deaths to 'prove' that the lockdown was necessary.
How stupid are our MPs?
Finally, I'd like to end today's blog with this video of TalkRadio's brilliant Julia Hartley-Brewer interviewing Tory MP and former Business Secretary Andrea Loathsome about whether a lockdown is necessary.
Julia Hartley-Brewer understands what I blogged about yesterday – that Xi Pingpong's Chinese plague infections are already plateauing (and reducing in many places), that Whitty and Valance's scenarios of 4,000 Covid-19 deaths a day are unadulterated rubbish and that the lockdown is completely unnecessary.
What's truly terrifying is Andrea Loathsome's total ignorance of what the figures are telling us and her pitiful parroting of Boris Johnson's lies about the NHS being about to be 'overwhelmed'.
We are truly in extraordinary times. In 2008 our useless MPs (understanding nothing about science) voted by a massive majority for Ed Miliband's ludicrous Climate Change Act which will destroy millions of British jobs while achieving nothing. This week, our useless, pig-ignorant MPs (understanding nothing about the science) are about to repeat the same stupidity by voting by a massive majority to impose a completely unnecessary lockdown.
Watch the utterly incompetent Andrea Loathsome and weep for your country: