(Friday blog)
Captain Tom vs today's bleating bed-wetters
Anyone watching the TV programme yesterday evening about the life of Captain Sir Tom Moore got a glimpse of how great Britain could have been if we hadn't become a country of whining, self-regarding, victim-status-claiming, bleating, blubbing bed-wetters.
BBC Breakfast can always be relied on to give the latest bunch of yellow-mattress, sobbing bed-wetters hours of undeserved opportunities to bitch and moan about how terribly they have been treated by life and how it's all either the Government's and/or white racists' fault.
The two main groups of emotionally-incontinent, tear-stained moaners on BBC Breakfast this morning seem to have been school/college students and tourists taking holidays in France.
Our snivelling students
I fail to have sympathy with all the snivelling A Level and BTec students bleating about the results they have been given for at least three reasons:
they have known for months that exams were impossible due to Xi Pingpong's Chinese Covid-19 plague
the qualification bodies have played safe and awarded many more of the higher grades A*s, As and Bs than are achieved in a normal exam year
faced with a huge loss of income from fewer lucrative foreign students, our money-grabbing universities are desperate to accept anyone and are lowering their already embarrassingly low entry standards.
Here's just one chart from my book THE GREAT UNIVERSITY CON showing how low the requirements are to get into a British (poly pretending to be a) university: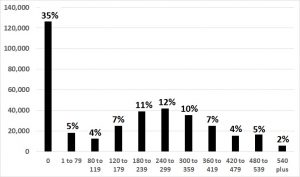 Just to explain the chart: This shows undergraduate acceptances in 2010 by their UCAS tariff points. To put this into context, UCAS awards 140 points for an A* at A-level, 120 for an A, 100 for a B, 80 for a C, 60 for a D and 40 for an E. These figures show that 51% of university undergraduates enrolled in 2010 with qualifications equivalent to a DDD at A-level or worse (fewer than 180 UCAS points). They also show that, in 2010, 35% of undergraduates enrolled with no tariff points!
Given this, I completely fail to understand what the bleating, blubbing student bed-wetters and their lefty, UK-hating, woke, ever-complaining teachers are weeping and wailing about.
Moreover, when the BBC interviewed critics of the system used this year, they always allowed the interviewees to spout their bile but never asked the interviewees what the qualification bodies should have done.
Our tear-drenched tourists
The other lot who were given the chance to howl and weep and wail this morning were British tourists – especially those on holiday in France – who will now be subject to a 14-day quarantine on returning to the UK.
Again, my well of sympathy is curiously dry:
they knew before going on holiday that quarantines could be imposed at short notice on countries with rapidly rising Chinese kung-flu plague infections
while on holiday they could have seen that the infection rate in France was rising rapidly and that the French Government was imposing new restrictions
WTF were they going on holiday anyway during a worldwide pandemic that has already killed over 500,000 innocents?
I'm no genius. But it is rather clear to me that right now is not really the best time to take a foreign holiday. However, it seems that hundreds of thousands of total dumbasses quite simply couldn't imagine that there might be problems taking a holiday during the worst pandemic for 100 years. After all, they could always blame the Government for their own stupidity. And if they were lucky, they might even get interviewed on BBC Breakfast about how appallingly they had been treated/betrayed by the Government while obviously accepting no responsibility at all for their own stupidity.
Grab them by the throat!
Hopefully most of you will have seen a version of the video below. From what I understand it was taken in Melbourne. Just in case there are any A Level student bed-wetters reading this, Melbourne is in a country called Australia which is on the other side of the world. As most of today's geography students probably don't know Australia is very far away.
Apparently, the rather draconian new restrictions imposed on Melbournians due to Xi Pingpong's kung-flu include having to wear a face-nappy whenever someone leaves their home. This is a pretty ludicrous imposition as it's almost impossible to catch the kung-flu outdoors.
Anyway, it seems a young lady was stopped by the Australian police for not wearing a face-nappy. Unfortunately, rather than explaining that she had valid medical reasons for not wearing one, she decided to give the finger to the policeman and then kick a policewoman in the stomach. This is not the recommended way to act when stopped by the police. Do not try this at home!
But while the young lady's response to being stopped by the police may not have been the best, what is truly shocking is the way the cop grabbed her by the throat.
Had the lady been an Aborigine or some other person of colour, there would have been riots and looting by the usual fascist BLM brigade. But as she was white, well…………