(weekend blog)
I just wanted to mention two unfortunate truths about the ludicrously-exaggerated Black Lives Matter protests
Was 'Saint' George Floyd a violent, dangerous thug?
I am in no way condoning the way the police treated George Floyd. But as the crowds of virtue-signalling, woke protestors (encouraged by a fawning mainstream media) try to beatify George Floyd as some kind of saint who loved his mom, was a wonderful dad and spent his life helping others, there's a more than insignificant risk that the mainstream media 'forgets' to mention Saint George Floyd's long and impressive criminal record: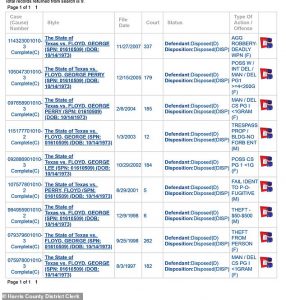 (if you want to see the image more clearly you can just left-click on it once then once again. Then you can even left-click on it a third time to enlarge the image)
This long criminal record includes several violent robberies including one where he broke into a home and aimed a pistol at a pregnant woman's stomach to get her to hand over any money and jewelry he could steal. He spent 5 years in prison for that, I think. The short sentence was the result of a plea bargain.
Moreover, I think he abandoned his daughter and her mother. So much for being a wonderful devoted dad.
Another part of the protestors' and mainstream media's beatification of St George Floyd was that, although he'd had a troubled early life in Texas, he had moved to Minneapolis to get a job and start a new life and had worked with young African Americans to help them avoid becoming involved in crime. That may or may not be true. But what we do know is that on the day of his arrest the police were called when a shopkeeper caught Saint George Floyd trying to use a counterfeit $20 note and that his autopsy showed that he was high on drugs – fentanyl and methamphetamine. Perhaps that's not exactly what you would expect from someone supposedly "starting a new life" and counselling other people to help them avoid a life of crime?
"Racist police brutality in UK more deadly than Coronavirus"
I saw a brief part of an interview on TV where some black British young woman (who according to one report originally from corrupt, dangerous, sh*t-hole Nigeria) claimed "You guys are saying that the coronavirus pandemic will kill us but police brutality will kill us first". This genius went on to claim "I'm already risking my life on a daily basis, ok, I am already risking my life. Corona is not going to kill me before the police kill me."
What was depressing about this young black woman's claims was that nobody dared challenge her utter stupidity. Over 40,000 Brits have died this year from the Chinese Covid-19 plague. Not one single Brit has died this year from the supposed "racist police brutality" that this lady is protesting about. Yet this (IMHO) brain-dead idiot is allowed to get away with her ludicrous claims without being challenged. And, worse than that, we see our police kneeling in subservience to these (IMHO) woke, brain-dead, know-nothing, self-indulgent, lying ass-holes:
Oh, and I have a bit of news for this young lady. If she doesn't die of old age, then statistically the most likely cause of an early death for her in Sadiq Khan's violent, drug-flooded, blood-soaked London will be from being stabbed or shot by her BAME gang-member boyfriend should she ever dare disrespect him. But of course nobody dares mention that as, even though it would be statistically-correct, it would be politically-incorrect and thus would be considered 'racist'.
Then there's another option. If the young lady did originally come from Nigeria and really believes  "I'm already risking my life on a daily basis" then she could always return to quiet, safe, calm, non-violent Nigeria. How about that for a great idea?