(Monday/Tuesday blog)
Where to start?
How about with this picture?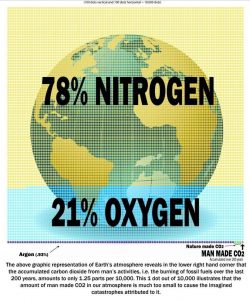 (if you want to see the image more clearly, you can just left-click on it once then once again. Then you can even left-click on it a third time to enlarge the image)
This shows the parts of nature-made and man-made CO2 in the atmosphere – they are the tiny little bits in the lower right-hand corner of the picture. Yet the crazed, West-hating, Greeny, Extinction Rebellion protestors and all their ever so woke supporters claim to believe that this tiny, almost insignificant amount of a trace gas – four hundred parts per million – is going to destroy humanity.
There seem to be many similarities between the Extinction Rebellion protestors and the Black Lives Matter protestors. Probably they're exactly the same people – the always offended looking for something to be offended by.
I'm almost speechless at the supposed Black Lives Protests and the way most of the mainstream media are grovelling to the idiots taking part in the protests. Most of these idiots couldn't give a damn about the murder of violent, dangerous, drug-addicted, drug-dealing recidivist criminal George Floyd. Most of these idiots couldn't give a damn about the 95% of African Americans murdered each year by other African Americans. Most of these idiots couldn't give a damn about the daily stabbings and shootings In Sadiq Khan's blood-drenched London of multi-cultural enrichers by other multi-cultural enrichers. Most of these idiots couldn't give a damn about the 100,000+ black Africans killed each week by the poverty caused due to the greed, venality, stupidity and incompetence of black African rulers.
How many Brits are racist?
How many Brits are really racist? One percent? Probably fewer. Yet according the the Black Lives Matter protestors we're all Klu Klux Klan racists. When the BNP and EDL existed, they could normally only muster about 20 to 30 people for their marches. But let's assume there are up to 2,000 to 3,000 real racists in Britain. As a proportion of the UK's 50 million or so white population that would be the same as the tiny, almost insignificant part of CO2 in the atmosphere as on the picture above – basically totally negligible. Most TV presenters are from a BAME background. Almost every single TV ad now features a mixed-race couple. Our Chancellor is a BAME. So is the Business Secretary. So is the Home Secretary. So are many other politicians. How many white politicians are there in sub-equatorial Africa?
Meanwhile many thousands of blacks and Asians and Arabs and other wonderful people from interesting countries and cultures are invading Europe in the hope of reaching supposedly 'racist' Britain. Why would they be so desperate to come here if we really were racist? Why would they want to come here if (as one stupid protestor claimed) every day they risked losing their lives due to racist UK police brutality? And why don't all these oppressed BAME people leave ghastly, dangerous, racist Britain if it's such a terrible country in which brutal racist police are murdering BAME people every single day? Our borders are open. Nobody is forcing you to stay here.
Supposed racism in Britain is just as big a lie and fraud as supposed Man-made Climate Change. And yet the mainstream media demand that we bow down or 'take the knee' to this new spurious cult.
How Black Lives Matter anarchy will help Trump
In the USA, the protests and attendant rioting and looting have nothing to do with the death of the violent, dangerous, drug-addicted George Floyd. They are really about trying to overthrow President Trump. The most ludicrous demand made by the protestors was that US police forces should be defunded and disbanded: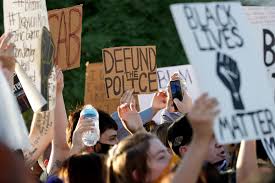 But the stupid brain-dead, woke, progressive protestors don't seem to realise that they're actually helping Trump get re-elected. Instead of being pilloried by the Democrats for the messed-up reaction to the Chinese Covid-19 plague and the ensuing economic depression, Trump can now turn the November presidential election into a law-and-order election. Trump can then position himself as the candidate for law-and-order and paint the useless, lying Democrats into a corner as the party that supports riots, violence, chaos, looting and anarchy.
It's looking like four more years for Trump.
Blacks' Nikes Matter
And finally, to cheer us up, here's a short (2 minutes) video from the USA of some multi-cultural enrichers bravely protesting against police racism by helping themselves to a few pairs of the latest Nikes.
After all, remember – Blacks' Nikes Matter: