(Thursday blog)
A tale of two shooters (continued)
First, just a quick continuation of yesterday's blog about US mass shootings and British media bias.
In the BBC News report yesterday evening, they finally mentioned that there had actually been two mass shootings recently in the US and not just the El Paso shooting by a white supremacist. Does this mean we actually got an unbiased report from the BBC? Well, no actually. The two shootings used in the BBC report were the El Paso one and one from July 28 at a food festival in a town called Gilroy (California). Both these shootings were carried out by white, right-wing extremists. The BBC made no mention at all of the most recent US mass shooting – the one in Dayton – the one carried out by a Democrat-supporting, Elizabeth Warren-supporting, Climate-Change-believing, pro-gun-control, immigrant-loving, open-borders lefty.
By choosing to only mention the two shootings done by white, right-wing extremists (and ignoring the one done by a left-wing extremist) the BBC was able to spin the whole story into a vituperative attack on the supposedly 'racist' Trump. The BBC managed to reinforce the idea that Trump was responsible by interviewing two nurses from a hospital in El Paso who both were prompted to say that Trump was not welcome in their town.
Surely it must soon be time to make the BBC a subscription-only service and then let Guardian-readers pay for a useless, bloated, self-serving, libtard organisation that is becoming increasingly irrelevant to most people's lives?
Why Arabs don't want to live in Arab hell-holes?
The progressive libtards and lefties never miss an opportunity to vomit their loathing of tiny, democratic, technologically-advanced, hard-working Israel. Usually they accuse tiny Israel of being a fascist, apartheid, militaristic state that oppresses Arabs and is the cause of all the misery and backwardness throughout the Arab world even though the surface area of tiny Israel is just 20,770 km2 and it has a population of 8.7 million while the Arab world is over 600 times larger at 13,132,327 km2  and has a population of 423 million: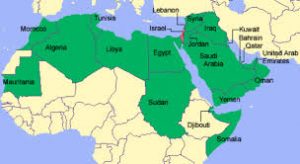 Only brainwashed, Izlumophiliac, West-hating lefties, the Labour Party and the BBC and C4 News could seriously believe that tiny Israel (the little red patch on the above map) could really be responsible for the violence, poverty and misery of the Arab world (the huge bit in green).
And many thick-as-sh*t lefties in Europe, the UK and the US have claimed that Israel's treatment of its Arab population is just like the Nazis' treatment of Jews.
So, I thought it might be useful to bring you a link to a very short (2 minutes) video of an interview with an Israeli Arab who went off to fight for ISIS.
In the video, the first minute or so consists of a couple of questions in Arabic (there are subtitles) about the situation in ISIS. Then the ISIS fighter makes an appeal in Hebrew to the Israeli prime minister. He admits he was misled and begs to be allowed back into Israel. Why does he want to go back to Israel? Because he says it's democratic and treats people from all backgrounds and religions as equals.
Could the lefties please explain why this gentleman doesn't really fancy going to live in any of the backwards, excrement-covered, poverty-stricken, over-populated, stinking, undemocratic hell-holes created by his own people? Could they also enlighten me on why this gentleman wants to return to a country where (the lefties claim) Arabs are treated just like the Nazis treated the Jews?
Silence from the idiotic lefties?
Here's the link:
https://www.memri.org/tv/captured-israeli-arab-isis-fighter-sayyaf-daoud-baghdadi-mossad-stronger-netanyahu-ask-return