(Friday blog)
Here's a line from a Times article today bleating about supposed Global Warming (or Climate Change or Human Extinction or whatever it's called this week): "Measured in Cambridge at 3.37pm, it beat the previous record for July of 36.7C, which was set at Heathrow in 2015. It was only 0.4C shy of the hottest temperature on record — 38.5C in Faversham, Kent, in 2003".
Let's take a few moments to analyse this latest scaremongering eco-posturing
Cambridge – more people, more offices, more cars, more air-conditioning
What do we know about Cambridge? Well, it's got a jolly good university. And there's a river full of punts. It's also one of the fastest-growing cities in Britain:
(Sorry that the graph is difficult to read. I'm not sure why there's a drop at the end in 2017. I think this is because 2017 is an estimate)
The city continues to grow as ever more hi-tech and medical companies set up operations in the city to take advantage of the large number of highly-educated, highly-skilled people living there.
The population density for Cambridge is now over 3,000 people per km2. So, this once pleasant, largely-academic, semi-rural country town now has similar population density to places like Wolverhampton, Coventry and Derby. More people and more modern air-conditioned offices mean more heat. So, as Cambridge grows and grows, there will be an ever greater 'heat island' effect.
An 'urban heat island' is an urban area or metropolitan area that is significantly warmer than its surrounding rural areas due to human activities. The temperature difference usually is larger at night than during the day, and is most apparent when winds are weak.
Even if there wasn't any Global Warming, we would expect the hottest temperatures in fast-growing, heat-island Cambridge to increase.
Why is Heathrow hot?
Then there are temperatures at Heathrow Airport – another place the BBC and mainstream media love to quote when trying to scare us with the threat of catastrophic Global Warming. What do we know about Heathrow? Well there are lots of lovely heat-reflecting tarmac, lots of heat-emitting planes and lovely large heat-emitting passenger terminals.
There has been relentless growth in Heathrow passenger numbers: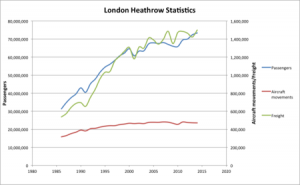 Moreover, there has also been massive growth in the population of Southeast England resulting in the M25 (which passes through Heathrow Airport) being log-jammed with heat-belching lorries and cars for much of the day. If ever there was a place in Britain with a major 'heat island' effect, it would be Heathrow Airport.
What about Paris?
There also loads of news reports about how Paris is also apparently "sweltering under record temperatures". Here's a graph of the French capital's population growth: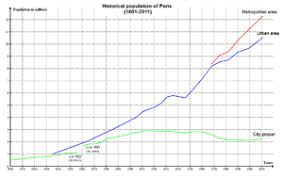 More people = more cars, more buildings, more heat.
Of course, it has been hot in Paris. But when claiming heat records have been broken, the climate change doom-mongers never mention how rapidly-increasing populations can increase the 'heat island' effect.
Car parks can get hot
Here's nice photo of a weather station measuring temperatures: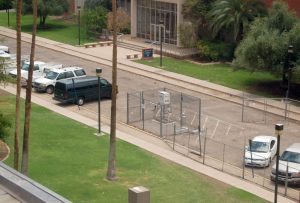 What do you notice? Yup, it's in the middle of a car park and near some heat-emitting air-conditioned buildings. And this is apparently a problem with many hundreds of weather stations. They used to be located in the countryside. But as towns and cities have expanded, many weather stations that used to be in the middle of nice, cool, heat-absorbing fields are now in heat-reflecting car parks and beside heat-producing buildings. So, these weather stations would probably record hotter temperatures whether the climate was warming or not.
The situation is so bad that in 2018, the Met Office actually rejected a claim that Scotland had experienced its hottest day: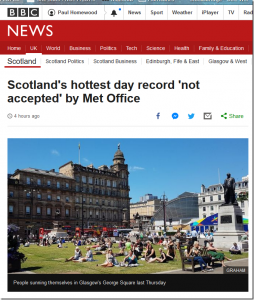 And the reason the Met Office rejected this 'hottest day' claim? Yup, you guessed it – the temperature measurement was taken in the middle of a car park. And what do you have in a car park? Yup, heat-belching cars.
Caveat emptor
I am not denying that the climate is changing. The climate is always changing. And I do not deny that the climate may be warming as we move from the Little Ice Age into the Modern Warm Period:
I'm only suggesting that we exercise a little caution when being bombarded with the mainstream media's ever more hyperventilating claims of "hottest day ever" and "temperature records broken" and "we're all going to die".