(weekend blog)
I'll keep this blog short. Below is an extract from an official EU document. The first column of numbers shows the actual population density in number of people per km2 for each EU country. The second column gives the actual (2008) population by country: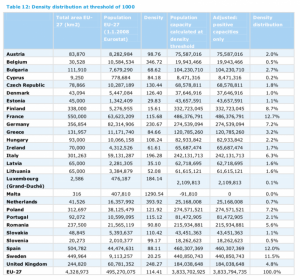 The really exciting column of numbers is the fourth which shows what our EU rulers consider to be the population capacity for each country using a target of 1,000 people per km2. You'll see that for Britain, Adolph Merkel's population planners estimate we could increase our population from just over 60 million (in 2008) to 184 million at some glorious point in the future.
Overall, the EU's population planners believe that the EU's population could be increased from around 495 million (in 2008) to 3.8 billion to reach the target population density of 1,000 people per km2.
But where are all these extra people going to come from? After all, ethnic Europeans are having ever fewer babies. Hmm. Oh wait, I know where they'll all come from – they'll come from backward, violent, Third-World sh*tholes.
Later in this official EU document are loads of ideas about forcing countries to share the costs of this massive population increase. Here's just one such page (sorry it's difficult to read)
This document gives a  small glimpse into the future our EU bosses have planned for us.
In case you think this is fake news, here's a link to the original EU population planning document:   https://ec.europa.eu/home-affairs/sites/homeaffairs/files/e-library/docs/pdf/final_report_relocation_of_refugees_en.pdf
Personally, being a progressive, liberal, internationalist, globalist, rapefugee-hugging libtard, I welcome the planned arrival of million upon million of young Third-World men of fighting age who hate us, hate our civilisation and want to enjoy/destroy (delete as appropriate) everything Europe has created.
Oh, I just love my own virtue-signalling. Look at me, everybody. I'm almost as virtuous as people like Lily Allen, Saint Geldorf, Bono, Emma Thompson, JK Rowling and Gary Lineker. And I'm not even a multi-millionaire living in a few well-protected mansions far far away from diverse, multi-cultural, inner-city, violent, no-go-area slums.
But sadly there are negative, horrible people like Pat Condell who seem unable to understand the wonderful wonderful future our EU leaders have planned for us. Shame on Pat Condell and anyone who thinks like him. Here he is in 2017 moaning and complaining as usual: