(Tuesday blog)
The big story from Sunday's Swedish elections is not that about 18% voted for the anti-immigration party.
No, the big story is that 82% of votes went to political parties who want to destroy Sweden and hand over their country to the Third-World invading armies:
We should congratulate the Swedish politicians, media and education system for so successfully brainwashing their people and turning them into such spineless, limp-wristed, virtue-signalling, docile cowards:
In spite of media and political censorship, surely some Swedes must have had some vague idea that all was not well in their Scandinavian welfare paradise?
Surely the fact that over 90% of rapes, especially the violent ones, were committed by recent arrivals should have set a few alarm bells ringing? Here are some of the lucky women – they survived their rapes:
Not all are quite so fortunate:
As for Swedish men. They seem to have been completely emasculated. They're afraid to protect their own girls and women:
And on the very very rare occasion when a real man (in this case the son of an Eastern Europe migrant, not a Swede) dares to try to prevent Swedish girls being sexually harassed, the migrants kill him:
Or if any Swede finds the courage to speak the truth about what's happening in their country, they are immediately destroyed: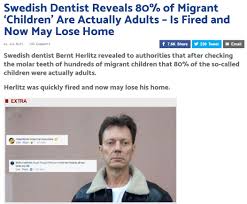 Swedes, what have you done to your once wonderful, peaceful country?
To try and give you an insight into the stupidity of Swedish media and politicians, here's what a former Swedish prime minister said:
And here's a 1-minute video of the former leader of the largest Swedish political party explaining that all Sweden's problems are due to the white majority and have nothing to do with the invading Third-Worlders.
Sweden is finished!
Let's hope Denmark, Norway and Finland learn something from Sweden's suicide!!!!