(Wednesday blog)
On Monday this week, our diverse, multi-cultural new Home Secretary, Mekon look-alike Sajid Javid, was all over the news: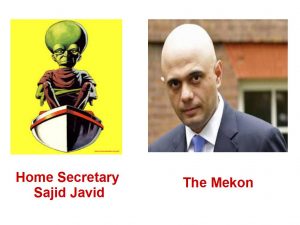 Sajid made an important speech about the sex abuse of Britain's children. There are, according to Sajid, at least 80,000 sex abusers or potential sex abusers hunting for victims on the Internet. Sajid and his police would apparently spare no effort to hunt down these 80,000 potential or actual sex abusers. "Sajid Javid threatens tech giants over online sex abuse" the sycophantic BBC trumpeted.
Furthermore, tough guy Sajid warned the technology companies that unless they did more to identify and act against these 80,000 potential or actual (or mythical?) sex abusers, then Superman Sajid would introduce legislation: "So let me say this – I'm not just asking for change, I am demanding it and the people are demanding it too – and if the web giants do not take more measures to remove this type of content from their platforms, I will not be afraid to take action."
Phew! Wow! I bet the 'tech giants' are trembling in their boots.
But hold on a minute. I seem to remember something about sex abuse in the UK. I seem to remember that over 50,000 underage, white British girls had been gang-raped, gang-sodomised, pimped out, tortured and brutalised by gangs from a certain community in our fabulously multi-cultural country:
Moreover, I seem to remember that many of these underage white girls had to service 10 to 20 men a day – men from a certain community in Rotherham and Rochdale and many other towns all across Britain.
Moreover, I seem to remember that these rape and torture gangs operated for at least fifteen years in the full knowledge (and maybe even enthusiastic participation?) of our local politicians, police and social workers without any action being taken against them:
Not only that, but I have an inkling that tough-guy Sajid comes from exactly the same community as these rape and torture gangs though, of course, I'm sure he never joined in their fun.
(If you can't guess which community that is, here are a couple of subtle hints – "Pakistan" and "Moozerlum")
Now, I didn't listen to the great Sajid's important speech. Who could listen to a politician's speech without vomiting at the lies, treachery and hypocrisy? But I bet Sajid, the great warrior against child sex abuse, never mentioned the rape and torture gangs from his own community:
Nope, Sajid was fulminating against all those nasty people (who may or may not even exist) on the Internet and not so keen on reminding us who were the most prolific child abusers in our once great country.
Nice one, Sajid. Nice piece of deflection. Nice way to point the media away from the massive, almost industrialised rape and sex abuse of underage white girls by members of your own community.
Oh the irony of someone from that community claiming to be fighting child sex abuse!
Oh, the hypocrisy!