(Wednesday blog)
I was in Oxford yesterday recording a Podcast for Breitbart London about my latest book THE GREAT UNIVERSITY CON.
Last week was a big week for Britain's school-leavers. They got their A Level results on Thursday 16 August and now have to decide which university to go to. This gave all the newspapers excuses to show pictures of delightful young totty jumping up and down in excitement and relief: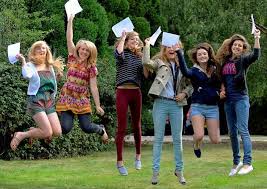 But perhaps our dear school-leavers needn't have worried so much? Of course, you still need to be smart and work hard to get into a real university to study something serious and useful. But there are around 160 universities and Higher Education colleges in Britain and many are not too particular about who they let in.
Around one million six-formers will have taken their A Levels this year. Of these one million school-leavers around 500,000 will be accepted into a university. That's a great achievement you might think. Around half of Britain's yoof are bright enough to study for a degree. Impressive, huh?
But it's not quite so impressive when you dig a little deeper into the figures. About 51% of those going to Uni this autumn will have achieved 3 Ds or worse at A Level: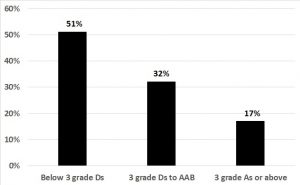 One university (probably a former poly?) was reported as having no fewer than 97 degree courses for which the entrance requirement was just 2 Es at A Level. And there are many other universities that are just as undemanding as that particular 'academic' institution.
When I was young, a long time ago, 3Ds or worse at A Level would have been seen as failure. As for just getting 2Es – that would have been a disaster. But now getting 3 Ds not only gets you into many of Britain's universities, it  also entitles you to borrow up to £50,000 from taxpayers. And if you only get 3 Ds or worse at A Level, you're unlikely ever to earn enough to repay the loan British taxpayers have so generously given you
While Britain's top universities have maintained their standards and still offer a good education, many of our less prestigious Unis have turned themselves into businesses whose only aim is to maximise profit by cramming in as many £9,250-a-year fee-paying students as possible. And the more profit these universities make, the more they can pay their already over-paid vice-chancellors most of whom are now on over £400,000 a year.
These second- and third-rate profit-maximising universities don't care if their students will leave with no chance of getting a graduate job and yet £50,000 or more of debt. They don't care that only about one in every hundred psychology students will find a graduate job or fewer than one in every 300 forensic science graduates will find a graduate job. In fact, one police chief recently described forensic science degrees as "a savage waste of young people's time and their parents' money".
Our universities are churning out so many graduates that even in a subject like Law, which you would have thought would lead to a good career, only about one in four graduates will get a graduate job: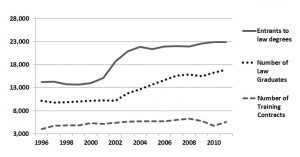 Of the 500,000 school-leavers heading to Uni this autumn less than 200,000 will find their degrees lead to graduate careers. At least 300,000 will find they've graduated with massive debts and useless degrees from third-rate institutions and have no chance of getting the graduate job they were promised by the universities' glossy marketing material.
Our students already have around £100bn in loans and this is increasing by around £12bn a year. Most of this money will never be repaid.
Luring these 300,000+ school-leavers who have no chance of a graduate-level job onto useless courses by profit-maximising universities is a mis-selling scandal that will make PPI mis-selling look like pocket money!
(Big subtle hint – you could show support for my work on this website by buying a copy of my latest book THE GREAT UNIVERSITY CON – you don't have to read it)