(Tuesday blog)
They say you can judge a person by the company they keep.
So, how about our great leader, Theresa the Turd Polisher?
Here she is with the Useless Drunk:
Pretty chummy, aren't they?
And here she is with the rulers of Europe:
They look like best friends for life. Maybe they could all appear on Love Island together?
Here she is with two of the greatest leaders of our time – Donald Trump and Viktor Orban:
She's not quite so friendly and relaxed in their company, is she? Nope, Theresa doesn't feel at home with people who have pride in their countries and who understand that they have been elected to carry out the wishes of their electorates.
She'd much rather hobnob with Merkel and Macron and the Drunk. Globalists, Internationalists, George Soros glove puppets. They're her kind of people.
Moreover, I couldn't find a photo of May with Nigel Farage – probably the greatest Englishman of our time.
You can judge the Turd Polisher by the company she keeps. She's a Remoaner. Always was, always will be.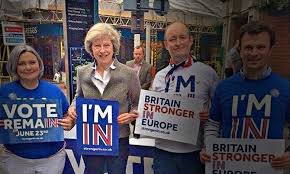 And she's sold us down the river: