(Monday blog)
Let's all give thanks to Boris Johnson for daring to call a "turd" a "turd".
Most of us probably don't have a clue about the finer details of Theresa the Appeaser's 100-page proposal on our future relationship with the wasteful, corrupt, undemocratic, West-hating EU. So, we should be grateful to Boris for giving us the 'bottom line' – it's a turd:
I guess we always knew the ruling elites would keep us tied to the EU as a vassal region of a resurgent German Fourth Reich. But still, it may come as a shock to many when they realise the extent of our rulers' betrayal of the result of a democratic referendum.
What's even more worrying is that, under May's plan, Britain will be entering negotiations with from a position of total capitulation to Adolf Merkel, her Useless Drunk and the UK-hating Barnier. So, after the supposed 'negotiations', we're going to end up with an agreement that is even worse than the "turd".
We should respect Brexit Minister, David Davis, for resigning in protest at being sidelined as negotiator and replaced by a pro-EU Remaniac civil servant who will give in to every demand from the Fourth Reich.
So now, to try to cover up the extent of her betrayal, Theresa will be hastily getting out the turd polish: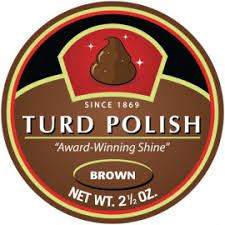 And she'll be polishing away to try to put some shine on her 100-page turd.
Perhaps she'll even succeed and get the backing of her self-serving, expense-fiddling, troughing, UK-loathing, democracy-despising MPs?
But she'll have betrayed Britain.
But then, I guess we always knew she would. After all, she's a Remoaner – always has been and always will be:
Come back Nigel – your country needs you!