(Friday/Saturday blog)
I'm afraid my website was down most of Friday. In my paranoia, I imagined the Thought Police had erased me from the Internet. But it was just the company which hosts my website which had a cable cut by a digger. Of course, the company isn't stupid. They had a back-up cable. Unfortunately that was in the same trench as the regular cable. Duh!
Anyway, today's blog:
I had quite an unpleasant experience on Bank Holiday Monday. We were enjoying lunch sitting outside a local pub when suddenly a child at a table near us started screaming "I want an ice cream. I WANT an ICE CREAM! I WANT AN ICE CREAM!!!!! I WANT AN ICE CREAM!!!!!"
This went on for some considerable time. Being an idiot, I eventually suggested to the parents that they get control of their child. Bad move. The father rushed over at me pushed me against a wall and probably would have started hitting me if other customers hadn't intervened. And all the time the father was shouting "He's f*ck*n autistic, he's f*ck*n autistic".
So, I started wondering about supposed autism and supposed ADHD and other supposed psychological problems suffered by today's unruly, self-centered, often uncontrollable, spoilt children.
My father was a violent bully who would lash out at the slightest sign of us behaving badly. .
I don't recommend my father's approach as a parenting style. But at least we quickly learnt what behaviour was acceptable and what wasn't.
However, I do wonder how much of today's supposed autism and supposed ADHD is real and how much is due to incompetent parenting, a lack of discipline and a need for useless, self-obsessed, thicko parents to find a 'medical' reason for their children's appalling behaviour.
I looked at a few studies on the level of false diagnoses of autism and ADHD. Some suggested suggested that about 25% of diagnoses were due to parents and schools exploiting diagnoses of supposed autism and ADHD to get extra government funding and extra services. This chart (with illegible numbers underneath) shows the massive increase in medication for children with supposed ADHD in the UK from 1994 to 2014: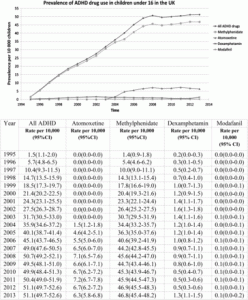 Several studies proposed that there was massive over prescribing of Ritalin for supposed ADHD – mainly for boys – across the developed world.
And we shouldn't forget the possibility, probability or even certainty that many tens of thousands of child psychologists and psychotherapists and cognitive behaviour counsellors and other well-qualified, well-paid, Guardian-reading supposed 'experts' are being 'somewhat liberal' when diagnosing various supposed psychological conditions in children in order to justify their continued employment and continued income.
Personally, without any real basis for my assumption, I suspect that less than half of those 500,000+ UK children diagnosed with psychological problems actually have them. I believe most are just behavioural problems that a bit of proper parenting and a bit of discipline in school could sort out.
Of course, the "we're all victims, we're all autistic/ADHD" brigade and the BBC and C4 News and other mainstream media would claim that increased diagnosis is due to increased awareness of these 'terrible' psychological conditions. But here's a study which suggests that would be triple, unadulterated, progressive, liberal, libtard bollox. The study looked at rates of diagnosis of ADHD in 400,000 boys based on their month of birth: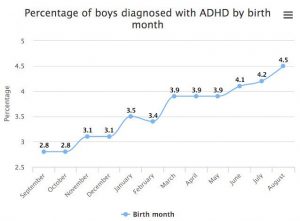 Looking at this, it seems blindingly obvious that most of the diagnoses of ADHD actually have nothing to do with real ADHD. Instead they are just a result of the younger children in each class being slightly more immature than those who were a few months older.
Ooooops!
Of course, there are genuine cases of both autism and ADHD. And children who really suffer from these conditions should receive proper treatment. Though why these conditions have become so much more common – while parenting styles have changed from the more disciplinarian approach of the 1950s and early 1960s to the self-indulgent absence of any boundaries experienced by many of today's children – will remain forever a mystery
As for the gentleman in the pub – his complete lack of any self-control rather suggested that it was him, rather than his repulsive howling brat, who had the psychological problems.