(Wednesday blog)
Yesterday was 22 May. Yup yesterday we were all told to remember an important anniversary. Which anniversary? Well, the one-year anniversary of the Manchester bombing, of course. And our TV screens were full of stories of victims and survivors and suchlike and church services and sad-looking politicians and royals and whatnot. Though, in all the TV reports I saw, nobody mentioned the religion of the murderer and nobody mentioned his motives. I wonder why not?
Of course we should remember the Manchester dead. But what I found most nauseating were all the "we'll never give in to hate" posturing of the various speakers. Why nauseating? Because the suggestion is always that our society is ridden with supposed 'hate'. But it isn't. The Buddhists aren't full of hate. Hindus aren't full of hate. Catholics aren't full of hate. Sikhs aren't full of hate. Chinese Confucians aren't full of hate. In fact, most people in these groups work hard, look after their families, ensure their children are educated and try to fit in with British society. There's only one group that is full of hate – but nobody dares name this group because that would be a 'hate crime'.
However, there was another anniversary yesterday. Given the silence of our politicians and media, you might have forgotten it. Perhaps it slipped their minds too? Or perhaps they don't want us to remember it?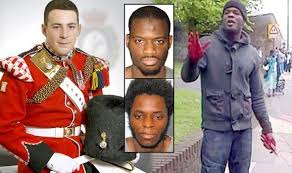 Yesterday, 22 May 2018, was the fifth anniversary of the brutal murder of Fusilier Lee Rigby on a London street. Oh, did nobody mention that? Didn't the BBC and C4 pay tribute to Lee Rigby who was slaughtered and almost beheaded by two members of the Religion of Peace? Nope. As far as I know, there was no mention in the mainstream media of Lee Rigby.
You forgot about that, didn't you? I imagine that, five years ago, when Lee Rigby was hacked to death, our politicians claimed "our thoughts and prayers…blah blah blah" and "he will always be remembered…. blah blah blah". Yet, yesterday, on the fifth anniversary of his death, Lee Rigby, who would "always be remembered", was rather conveniently forgotten.
The attitude of our rulers to Lee Rigby rather reminds me of Rudyard Kipling's poem – Tommy Atkins. People like Lee Rigby are useful to the elites when there's fighting to be done, but are seen by the elites as an embarrassment at all other times.
Shame on our Izlumophiliac leaders and the craven Izlumophiliac media for trying to erase Lee Rigby from history by deliberately ignoring the fifth anniversary of his slaughter.