(Weekend blog)
There's lots of stuff in the mainstream news at the moment – Brexit, Windrush, Korea etc etc. And lots of biased reporting as usual. Perhaps the most disgraceful is the coverage of the North/South Korea meeting. Most media, especially the BBC, are trying to make out that the meeting happened in spite of Trump's threats to obliterate FatBoy and his concentration camp of a country. Yet surely anyone with more than half a functioning brain (so that excludes progressive, virtue-signalling libtards) realises that it was only because of Trump's threats and sanctions that FatSlug has been forced to the negotiating table.
It's somewhat ironic that Obummer got the Nobel Peace Prize for doing nothing apart from having a great suntan while the real peacemaker, Trump, will never get any credit for his real achievements.
Anyway, as I have quite a few new readers at the moment, I'll risk boring long-time readers by returning to a story I've covered before because it's the most important story of our lifetimes.
Here's a simple graph of the projected population growth of Africa vs Europe:
There are around 1.2 billion Africans now. By the end of this century there will be around 3.57 billion. Africa's population increases by 50 to 60 million every year. That's around a million more Africans every single week! Let me repeat that in case there are any politically-correct, holier-than-thou, all-rapefugees-welcome libtards reading – each week there are around one million more Africans!!!
Here's a graph of population growth for a couple of total shit-holes – Ethiopia  and Sudan:
When Saint Bob did his BandAid thing, there were around 39 million Ethiopians. There are now about 100 million. Every year there are around another 5 million Ethiopians. Every 7 to 10 years there is a drought in the Horn of Africa. I think this connected to El Nino. So if Ethiopia can't feed 39 million people during one of its regular and predictable droughts, how the f*** is it going to feed 100 million now or 200 million in about 20 years?
So, how is Africa going to support its yearly extra 50 million people? By developing, stamping out corruption and producing ever more food and jobs? In your dreams! Or will Africa's teeming millions be forced to survive by invading and taking over Europe?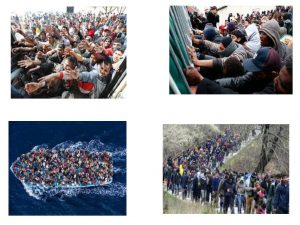 And turning Europe into a Third-World, poverty-stricken, excrement-covered, violent hell-hole jut like the one they've come from?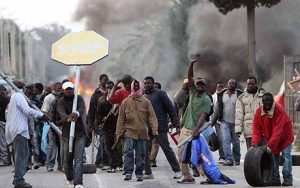 (Africans in Italy)
This is the most important story of our time.
This is the story none of the mainstream media would ever dare cover as they'd be accused of waaacccciiisssmmmmm!