(Weekend blog) Here's a story you'll never see in the mainstream media. Why not? Because the mainstream media is only interested in trying to ridicule democratically-elected US President Donald Trump. All the media want is bad news stories suggesting Trump is either an idiot or a traitor. None of the mainstream media will ever give Trump credit for anything.
As for our rulers, they must really loathe democratically-elected US President Donald Trump. Why? Because Trump is doing something no other political leader ever does – he is trying, as best he can, to fulfill the promises he made during his election campaign.
Trump's promise
One of Trump's promises was to do more to protect Christians being persecuted and murdered in Moozerlum countries
Although Christians are one of the most persecuted minorities in the Middle East, the (IMHO) treacherous, West-loathing, self-serving, Moozerlum scumbag Obama made sure that the vast majority of 'refugees into the USA were Moozerlums.
In 2015, under Hussein Obama, the US accepted 5,435 Moozerlum 'refugees' from Syria and only 28 Christians (o.5%) yet Christians used to make up about 10% of the Syrian population.
In the first few months of 2016, of the 2,099 Syrian refugees admitted to the USA, 6 were Christians (0.28%) and 2,043 (97.3%) were Sunni Moozerlums. The remaining 50 were 17 (0.8%) Shi'a, 30 (1.4%) other Moozerlums and 10 (0.47%) were the horrifically persecuted (by Sunni Moozerlums) Yazidis.
Now let's look at what has happened under President Trump: In Trump's first 6 months in office (January 21 to June 30) 9,598 Christian refugees arrived in the US compared with 7,250 Moozerlums. Under Obama, Christians were less than 1% of refugees coming to America and Moozerlums were over 98% of new arrivals. Under Trump, Christians made up about 50% of refugees, Moozerlums 38% and around 12% either belonged to other religions or had no religious affiliation:
Moreover, the percentage Christians has been increasing every month under Trump.
Below is a link to a short video in which Trump promises to increase the number of Christian refugees allowed into the USA. It look like President Trump has delivered on yet another of his promises. That will have the Trump-hating, West-loathing, Christian-despising, treacherous, rapemigrant-loving, lefty libtards choking on their ecological yoghurt.
Britanistan?
Oh, and before I go, I thought my tight-fisted readers who refuse to support this website by buying any of my books might enjoy these two photos of female newsreaders – one from British Channel 4 News and one from Syrian TV news. Can you spot the difference?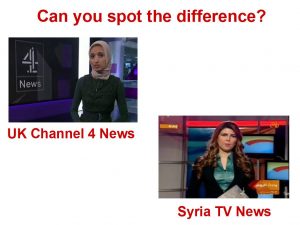 I wonder what this is telling us about the Moozerlumification of our once great country?
Anyway, here's Trump's promise – yet another promise he has kept: