Well, that's Ramadan over for this year. But I expect you're all wondering what the final score was in terms of the number of people killed in religiously-inspired attacks by our friends from the religion we all love and admire.
Well, here's the Ramadan 2017 final score: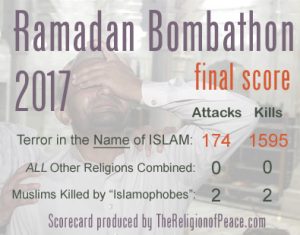 Yes, I know, utterly pathetic. Only 1,595 confirmed kills, a miserable almost negligible 53 people a day being murdered because of religion.
That's even less than Ramadan 2016: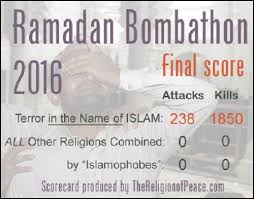 In 2016, there were a slightly more impressive 1,850 confirmed kills – about 62 a day.
Though, if the Egyptian police hadn't foiled an attack on a crowded Coptic Christian church and the Saudis hadn't prevented an attempted attack on a large mosque by two suicide bombers, then perhaps this year, with a few hundred more dead, our peaceful friends might have managed to beat their 2016 score?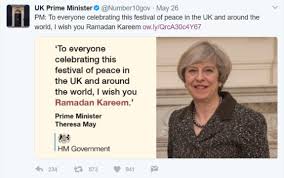 Actually, perhaps we shouldn't be dismayed by the annual Ramadan toll of murder and mayhem in the name of religion. Over 90% of those killed by the screaming, inbred, low-IQ crazies were just other screaming, inbred, low-IQ crazies. So, removing them from this earth, slightly improves the quality of the human gene pool. Like Theresa May (above) maybe we should all welcome Ramadan and the benefit it brings to mankind. Let's hope next year's score is better than what our peaceful brothers achieved in 2017 bringing further improvements to the gene pool.
One suspects, however, that Ramadan 2017's low final score must be slightly disappointing for all our friends in ISIS, Al Qaeda, Boko Haram, Hamas, Hezbollah, the Taliban and other associated groups who provide so much fun family entertainment around the world every year as they demonstrate the many joys of their most excellent and peaceful religion: