I admit I have been shocked and depressed by the overblown reaction to Trump's Executive Orders temporarily halting travel from 7 countries deemed a risk to the US.
For a start, this supposed "M*sl*m travel ban" doesn't affect 99% of the world's M*sl*ms – after all, only 7 of 53 M*sl*m countries are involved. But the scale of the George Soros-funded onslaught on Trump – comparing him to Hitler or worse, shows the depths the politically-correct, holier-than-thou, virtue-signallers will go in order to destroy America's democratically-elected president.
Moreover, thanks to a reader for pointing out that this isn't just an attack of Trump. It's yet another attack by the Remoaners to split Britain and the US and force Britain back under Nazi German control.
That the British media should have joined in the orchestrated manufactured supposed 'outrage' is an embarrassment for which our politicians should be abjectly apologising to Trump and the American people.
Many libtards in Britain have been truly astounded to find out that nobody has an automatic right to travel to America and that America has the right to control its own borders and refuse entry to anyone it considers potentially harmful to the country. Having handed over control of our borders to born-again Nazi Angela 'Mad Cow' Merkel, the British cannot understand that a country, which doesn't control its own borders, is no longer a country.
Now to today's blog. Many readers will have heard about the supposed Coudenhove-Kalergi plan – The Genocide of the Peoples of Europe through mass immigration to abolish national identities and give the bureaucratic elites full control.
Personally, I don't believe these massive conspiracy theories. And anyway, there's no genocide – at least not yet – there are just random small slaughters (Berlin, Nice, Paris, Brussels, London etc).
No, genocide is when Turkish M*sl*ms decide to slaughter over one million Christian Armenians (while the West stands by and does nothing to help). Genocide is when Merkel's parents' generation massacred over 6 million Jews (a job Merkel is keen for the M*sl*m invaders to finish).
What we're seeing in Europe is "suicide", not "genocide". We are taking the greatest civilisation the world has ever known – the civilisation that has done more for human progress than any other – and we are handing it over to be trashed by an invading army of inbred, violent, illiterate, unemployable, backward, savage subhumans.
Hundreds of thousands of brave men have given their lives to give us what we have in the West.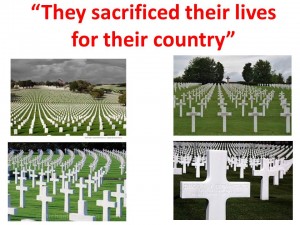 They must be turning in their graves to see how we are wrecking their precious legacy.
May God forgive us!