As the invading Religion of Peace armies take over Europe and transform it into a Third-World, dangerous, filthy cesspit Eurabia, you might have wondered how many violent, illiterate, worthless, inbred, rape-obsessed parasitic gimmegrants (sorry, I meant 'poor, defenceless, child refugees and highly-educated, hardworking adult refugees') the rich countries of the Middle East have taken in.
After all, the rich Arab countries already have the facilities to take in millions of their own kind. Here's the tent city in Mina for all the pilgrims to Mecca (approx 8 km from Mecca):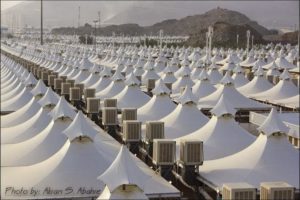 The tents are made of fire-resistant materials and all have air conditioners. Every tent has speakers, thermostats and fire alarm. Plus, of course, there are toilets and washing facilities. A total of 3 million people can be accommodated. Would it not be the perfect city for many of the M*sl*ms fleeing their countries? And much closer?
Moreover, the rich Gulf states urgently need workers. Here's very rich Dubai – almost a building site:
And there are over 10 million filthy, infidel migrant workers in the Gulf states, including over 2.6 million domestic servants who are regularly beaten, raped and sometimes murdered by their owners (sorry, another Freudian slip, I meant 'who are extraordinarily well treated by their generous employers'):
So what could better than the Gulf states welcoming in the invading gimmegrant army (sorry, slip of the finger on the keyboard yet again What's wrong with me this morning? I, of course, meant 'highly productive, well-educated, hard-working, really genuine refugees')?
Then the rich Arab states could employ M*sl*ms like themselves, rather than dirty, subhuman kaffir from countries like Bangladesh, India and the Philippines.
To help you understand how our dear friends from the One and Only True Religion help each other, here's a map showing how the rich Arab countries have so generously helped their co-religionists fleeing their own barbarity:
And here's a 30 seconds video of some Kuwaiti official explaining why the Kuwaitis don't want any gimmegrant scum in their country:
Yup, this Kuwaiti claims to understand what the rapist, gimmegrant, supposedly Syrian, migrant army are really like – violent, dangerous and parasitic. And the Kuwaitis and other Gulf states don't want any of them in their own countries. Instead they want to send them to Europe:
And, of course, because our leaders hate European civilisation so much that they want to destroy it, the gimmegrant armies will keep on coming till Eurabia becomes part of the inevitable Caliphate. And anyone who dares protest about the willful destruction of our continent will be prosecuted and persecuted.
Ouch – sometimes the truth hurts!