It's frightening how so-called liberal, lefty progressives have taken control of the mainstream media. For the last few years, we've been heckled and harrassed over the scam of supposed Man-made Global Warming. And now the lefties' new scaremongering is about supposed "racism". You can hardly watch a news programme now without some creep berating us about the "huge rise in racist attacks" in Britain since the Brexit vote.
Hold on a minute. What has actually happened? Apparently there was someone who handed out some cards saying "Poles go home" (probably spelled wrongly). And there were a few (extremely few) incidents where people apparently shouted abuse at immigrants. But how many immigrants were killed in these supposed "racist attacks"? None! How many were injured? None!
Moreover, last night there was a documentary from the Brussels Broadcasting Corporation called "United States of Hate: Muslims under attack". I didn't bother watching it as it was clear from the title what a pile of biased horse-shit it would be. After all, in a country awash with hundreds of millions of guns, how many Mooslums have been killed in "racist attacks"? None! How many Mooslums have been injured? None! All there has been is one protest against Mooslum immigration at one mosque. Yet the liberal lefty progressives claim America has become the "United States of Hate".
If the lefties want tp protest about something, how about all the Christians, Hindus, Buddhists, Atheists and other Mooslums who have been hacked to death, beheaded, crucified, shot or blown up by *sl*mists in the name of their supposed religion?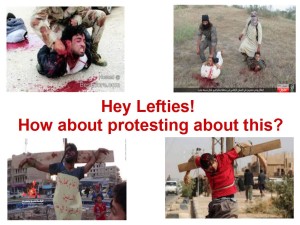 And what about all the women forced to recite from the Koran while being raped and then murdered? And all the homosexuals being thrown from tall buildings and then being stoned in the name of the Religion of Hatred and Death?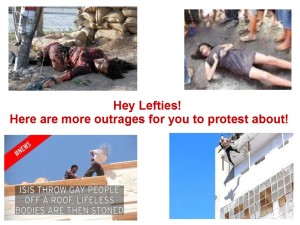 Oh, sorry, I forgot. Biased, lefty, liberal progressives never criticise Mooslums.
There's plenty of hate in the world for the liberal, lefty, progressives to protest about. But it's always hatred from a backwards, intolerant, violent, supremacist,  fascist death cult masquerading as a religion.
How about protesting about this, Lefties?