The quote in the title is usually ascribed to economist Herb Stein and is sometimes referred to as "Stein's Law".
Here's a chart of the trend in debt as a percentage of GDP for five of the main European countries: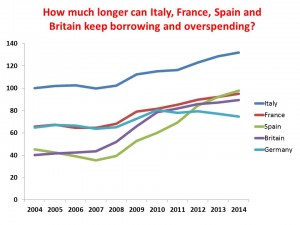 Italy, France, Spain and Britain are all on an impossible trajectory. No country can ever keep on increasing debt. At some point, as Greece has found, "if something cannot go on forever, it stops". And when it stops, that can be extremely painful – a 27% fall in GDP, 30% unemployment, 50% youth unemployment, hundreds of thousands losing their homes, social breakdown.
In Britain, the political parties are falling over each other offering us new bribes to vote for them. But bribes cost money and our Government is already spending £90bn a year more than it takes in taxes.
Our debt has doubled under the Coalition from around £750bn in 2010 to £1.5trn now. In 2014, we paid £47.4bn in interest payments. That's more than we spent on defence – £44.3bn. We don't notice these payments as we never see the money (£130m a day) going out. Think what the government could do with that extra £130m a day.
But our interest payments mean there is £47.4bn less to spend on health, education, transport, pensions, border control (sorry, that was just a joke) and, of course MPs' salaries and expenses for members of the Lords.
Moreover, our debt interest payments are forecast to hit £60bn next year: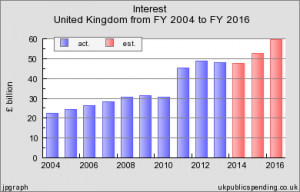 So, any government will have to find another £13bn in cuts or tax rises just to pay our rising interest bill. And this is assuming that we continue to pay interest at current rates. Were lenders to become concerned at our government's financial incontinence and interest rates were to increase to reflect the fact that British debt was becoming more risky, we could well end up paying £80bn or £90bn a year in interest – almost the total budget of the NHS.
Meanwhile our politicians witter on about possibly "reducing the deficit". Good luck to them. But every day we have a deficit, our debt increases.
If we are going to stop our debt increasing, our rulers have to find around £90bn of cuts or tax rises! Totally impossible. Or rather, quite possible, but political suicide in a country where 54% of voters get more in public services and benefits than they pay in taxes.
So, as our politicians desperately try to get our votes by bribing us with our own money, just remember what Herb said "If something cannot go on forever, it will stop".
Our politicians seem to forget that Britain cannot go on forever increasing its debt. At some point our increasing debt must stop. We've been here before under Labour and had to be rescued by the IMF. I expect the ugly, misformed three-headed Miliband/Sturgeon/Salmond monster will take us there again: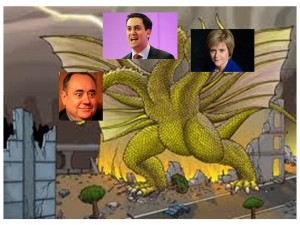 Interesting times ahead.
Please note: Tomorrow, Tuesday 28 April, we release our latest YouTube video. So please visit snouts-in-the-trough.com