Britain's favourite Mandelsonian, the corpulent know-it-all Stephen Fry has bravely struck a blow for the oppressed. Apparently Russia has passed a law which lardy Stephen Fry thinks is discriminatory against gay people. So, mustering all his rubbery courage, our national icon the great Stephen Fry has written to the PM and someone else demanding no less that the British Winter Olympics team (do we have one?) pull out of the Winter Olympics in Sochi in Russia in a couple of years' time.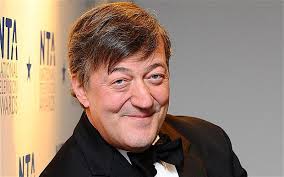 But why has lardy Fry chosen to vent his bile on Russia? With his encyclopaedic knowledge, surely Lardy knows that, while being gay is totally legal in Russia, it is a criminal offence (in some cases getting the death penalty) in over 20 African countries? (click to see more clearly)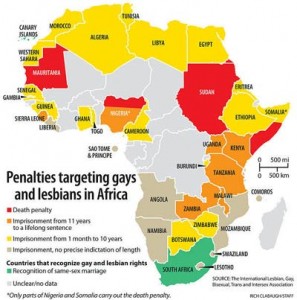 And homosexuals are regularly outed and persecuted: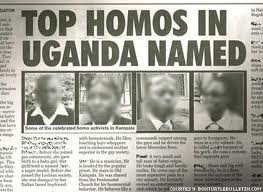 Why has Lardy never written to the PM demanding that foreign aid to these countries is stopped? Is it because Lardy is a politically-correct, multi-millionaire, lefty intellectual who believes that black people must never be criticised?
And what about Islam? Surely Lardy knows what most Muslims would like to do to homosexuals? And what they actually do to homosexuals in some devoutly Muslim countries:
This looks a bit more serious than what is happening in Russia. Moreover, why has Mr Fry not suggested boycotting the FIFA World Cup in Qatar, where homosexuals get 5 years in prison? (And probably a rather uncomfortable 5 years at that) And why have we never seen Lardy Stephen standing outside one of Britain's mosques with a banner protesting against the treatment of homosexuals in Muslim countries? Could it be because Lardy is a politically-correct, multi-millionaire, lefty intellectual who believes that we should never criticise anyone from the Religion of Peace and Tolerance? Or could it be because Lardy is a quivering coward? Who knows?
But Lardy Stephen is not afraid to get himself lots of free publicity (he could have kept his letters private?) by picking on an easy target like the British excuse for a Winter Olympics team and letting everyone know how brave he was.
In my humble opinion, Lardy Stephen, you are a spineless, hypocritical, publicity-seeking, politically-correct, Islamophiliac buffoon and for once in your life you should just shut up.