Charities in England and Wales raise and spend about £58.65bn a year. Of this, around £51.94bn (88%) is used for what the Charity Commission (the regulator for charities in England and Wales) classes as "charitable expenditure". Looks good, doesn't it? But let's pry a little deeper into some more figures about the charitable sector.
There are an almost unbelievable 180,000 registered charities in England and Wales. Yes, 180,000. The population of England and Wales is around 56,600,000 – that's a truly incredible charity for every 314 people!!!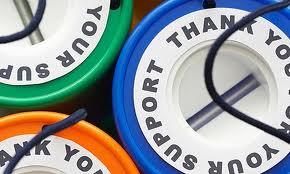 These charities employ – wait for it – 874,829 people. Let's assume the average cost of these people (including salaries, NI contributions, pension payments, office costs, computers, phones and so on) is a modest £25,000 a year (The average employee cost – just salaries and benefits – at the BBC's Children in Need charity, for example is an attractive £43,368). This would mean that £22bn of the £58.65bn we give to charities is spent on staff costs. Some these staff may be doing charitable things like caring for children, answering helplines or conducting cancer research. But many of them will just be administrators, managers on high 5-figure salaries and executives on comfortable 6-figure salaries.
Incredibly, the Charity Commission allows charities to include staff costs under "charitable expenditure". Perhaps it's because doing this makes it look like most of our donations are being used for charity.
There are also 945,278 charity trustees. In theory, these trustees should not be paid. But some are and all can claim for their time and expenses. If we assume they claim on average just £500 per year each, that's another £472,000,000 of our donations to charities going into someone's pockets.
Each year, every charity has to provide a set of accounts and a report to the Charity Commission. If we assume this just costs £1,000 per charity – wow, there's another £180,000,000 blown on administration. And we mustn't forget the generous expense accounts enjoyed by many charity executives and managers. If each charity spent only £1,000 a year on such expenses – I'm sure many spend much more than this (the director of Oxfam, for example, runs up an annual expenses bill of around £48,000 – about £1,000 every working week) – there's £180,000,000 more of our money gone up in smoke.
So, let's look again at some figures. £58.65bn a year is collected by charities. Of this, about £6.71bn (11.4%) goes on governance and fundraising and a further estimated £22.5bn (38.4%) goes on staff costs. In all, about 49.8% of all the money we give to British-registered charities is spent by them on themselves, leaving just 50.2% for real charitable expenditure.
This is a very different picture to that painted by the Charity Commission which boasts that more than 88% of all donated money goes on "charitable expenditure".
I don't know what readers will conclude from this. But my conclusions are:
1. The number of charities should be slashed by over 90% from 180,000 to somewhere around 10,000 to 15,000
2. The number of staff working for these charities should be cut by at least 70% from the extraordinary 874,829 to perhaps 260,000
3. The number of trustees should be cut from 945,278 to maybe 50,000 at most
3. Making these obviously necessary cuts would release at least £15bn a year for real charitable expenditure
As far as I can see, it's time to slash into Britain's bloated, self-serving charities – cut the number of charities, cut the number of staff, cut all the chief executives and financial directors and marketing directors and trustees.
(Talking of charity – it would be nice if 4 or 5 of you could buy a copy of my latest book GREED UNLIMITED. It's not because I want your money – I'm going to lose over £1,000 from doing the book – it's just that it seems pointless for the books to be lying in piles around my home when people could be reading them)