I've already written about the ludicrously large number of charities in Britain www.snouts-in-the-trough.com/archives/5980
Just in England and Wales there are an almost unbelievable 180,000 charities. Many of these will just be tax avoidance schemes which the useless overpaid, over-pensioned bureaucrats at the Charity Commission allow to continue as the more "charities" there are, the more people the useless Charity Commission will need to employ to monitor these "charities.
But many of these charities are real and they employ a staggering 874,829 people. Charities in England and Wales raise and spend about £58.65bn a year. Of this, around £51.94bn (88%) is used for what the Charity Commission (the regulator for charities in England and Wales) classes as "charitable expenditure".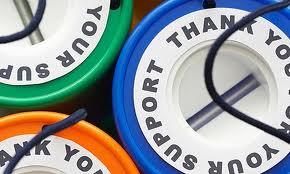 The average cost of these people (including salaries, NI contributions, and pension payments) is a modest £25,000 a year (The average employee cost at the BBC's Children in Need "charity", in comparison, is an attractive £43,368). This would mean that £22bn of the £58.65bn we give to charities is spent on staff costs.
Some these staff may be doing charitable things like caring for children, answering helplines or conducting cancer research. But many of them will just be administrators, managers on high 5-figure salaries and executives on comfortable 6-figure salaries.
Hopefully you've all seen the newspaper stories about the goings on at a charity called the Halo Trust. It seems that the "charity", whose trustees include the actress Angelina Jolie, has sanctioned the payment of tens of thousands of pounds a year for more than a decade to fund the private education of chief executive Guy Willoughby's four children.
Mr Willoughby, who founded the mine clearance charity, receives a financial package worth between £210,000 and £220,000 a year, according to the most recent accounts. The package includes the cost of sending his children to some of Britain's most expensive private schools.
Assuming that the schools cost about £28,000 a year and that the fees will be paid for 8 years per child,  Mr Willoughby's school fees will have eaten up about £896,000 of donors' money.
Mr Willoughby, 53, a former soldier and jockey, co-founded Halo in 1988 and has seen it grow into one of the UK's biggest charities. Last year the charity, whose headquarters are in Scotland, had income of more than £26m, including £4m of taxpayers' money from the Department for International Development.
Mr Willoughby defended the charity's decision to pay his children's school fees, pointing out that the Foreign Office and the Ministry of Defence paid for the private education of children whose parents had been posted overseas. Mr Willoughby said that, although he and his wife, Fiona, were based in Scotland, he travelled overseas for work, often to dangerous locations. However, on her personal website, his wife reportedly wrote: "We started a family, so during the next 15 years I rarely travelled while bringing up our four children." Whoops.
Incredibly, the Charity Commission allows charities to include staff costs under "charitable expenditure". Perhaps it's because doing this makes it look like most of our donations are being used for charity, when this is clearly not the case. So the £896,000 or so of this gentleman's four children's school fees will all be classed as "charitable expenditure". Well they certainly were charitable – to the charity's boss!
So, wanna get rich quick? Start a charity.