Monday/Tuesday blog
I guess you've all seen the story. Sir Kneeler "I don't know what a woman is" Starmer has pledged to make Britain into a "clean energy superpower" when Labour boot out the useless pretend Conservatives at the next election. This is part of Labour's "Green Prosperity" plan for what pathetically little is left of the British economy. There is so much one could say about how cretinous this is that you could almost write a book about it. Oh, I already did:
So, here I'll just highlight two of the most absurd issues with Labour's "Green Prosperity" plans:
Absurdity 1: This will improve the UK's energy security
In the Sunday Times report on this a Labour source is quoted as saying: "We are against the granting of new licences for oil and gas in the North Sea ……. They undermine our energy security". So, Labour are claiming that the UK's energy security will be undermined by Britain producing its own oil and gas and our energy security will be strengthened by relying on unreliable, often unfriendly, despotic foreign regimes for our energy supply. Good grief! Surely I don't need to explain the stupidity of this statement?
Absurdity 2: More renewable energy means higher energy costs
Labour claims that using oil and gas rather than renewables "will do nothing to cut bills". Well, here are two possibly relevant charts:
The first shows the percentage of renewable energy by country:
(left-click on images then left-click again to see more clearly)
The second shows the energy costs by country: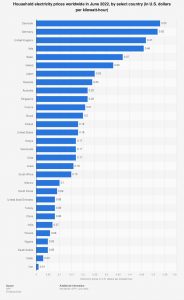 Hopefully you'll see that apart from a few exceptions the more supposedly renewable energy a country uses, the higher are its energy costs and the more fossil fuels like coal, oil and gas a country uses, the lower are its energy costs.
Labour's plans won't bring Britain "Green Prosperity". They will only bring "Green Bankruptcy" as British companies will be unable to compete with foreign rivals due to the UK's high energy costs.
The Western world has truly gone mad and our leaders truly are idiots and liars.
And what is perhaps more worrying is that we don't have a single mainstream-media journalist with either the intelligence or courage to expose the Net Zero, renewable energy farce for the nonsense it clearly is. After all, it only took me a couple of minutes to Google charts for percentage renewable energy by country and energy costs by country. Why did no journalist do this?