Monday/Tuesday blog
King Eco-loon and Queen Godzilla?
I consider myself patriotic. And, unlike anyone in Parliament or at the BBC, I believe that what little is left of Britain is valuable and worth preserving from mass open-borders immigration, WEF globalisation and the woke, history-challenged, narcissist, UK-loathing social-media mob. But I really can't see the point of squandering several hundred million pounds or whatever of taxpayers' money on some stupid ceremony next weekend. After all, the (IMHO) snivelling, self-obsessed, adulterous, climate-catastrophist, Izlumophiliac idiot, Charles, is already King and the beautiful, fragrant Godzilla is already his (supposedly 'hugely popular' according to the Daily Mail) beloved queen.
In Disney films, the handsome prince marries the beautiful princess while rejecting the ugly sisters. With Charles, he abandoned the beautiful princess and married one of the ugly sisters.
I'm not against the monarchy. Something like President Tony Blair and First Lady Cherie would be even more ghastly than dumb King Eco-loon and Queen Godzilla. Personally I believe Charles would have (for the first time in his spoilt, self-serving, self-regarding, rather pointless life) earned our respect if he had stepped aside, let William and Kate take over and just taken a position for himself as a senior mentor and adviser to King William and Queen Kate. But Charles is too thick, too selfish and too tin-eared to ever consider something like that. As for swearing an oath of allegiance to the perpetually miserable and moaning Eeyore Charles, forget it. I might do some swearing that day, but it won't be for an oath of allegiance to a self-centered, intellectually-challenged, woke excuse for a man who has never done anything in his 70+years on Earth to warrant either respect or allegiance.
Is this why they really hate Israel?
Last Wednesday, Israel turned 75. As the lefties and anti-semites in Labour and at the Guardian and the BBC continually howl and scream at Israel as being the source of all the Middle East's problems, it's easy to forget quite how small Israel is: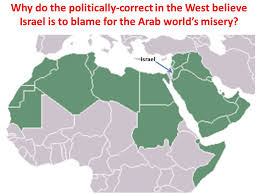 The population of Israel is just over 9 million of which around 2 million are Arabs. The population of the Arab world, supposedly oppressed by these 9 million Israelis of which just around 7 million are Jewish, is over 456 million.
Here is a chart of Israel's GDP per capita compared to the GDP per capita of its nearest neighbours: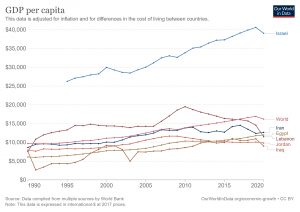 (left-click on chart then left-click again to see in glorious widescreen technicolour)
Israel's GDP per capita is close to $40,000, the Arab world's GDP per capita is just $6,647.
Israel is an extraordinary achievement to have created a modern, democratic, economically-successful country in just 75 years in spite of the Arabs' repeated attempts to wipe Israel off the map. The Arab world is a disaster – hundreds of years of a misgoverned cess-pit of misery, poverty, backwardness, violence, hopelessness and failure. Moreover, the success of the Jewish state compared to the failure of so many countries which follow King Charles's favourite religion poses some very difficult questions about the role of Charles's favourite religion in causing economic stagnation, social disintegration, political instability, violence and widespread misery.
Israel's success exposes the Islamic Arab world's political, religious and economic failure and that's why the lefties really loathe Israel.