weekend/Monday blog
It's a jolly life in South Africa's parliament
We're all encouraged to save for our retirement. But few people seem to have done it better than South African politicians.
Most websites report that South Africa's former president, Jacob Zuma, managed to save over $20m during his nine years (2009-2018) leading the country on a salary of around $170,000 a year. That's quite an achievement. Though when I was writing about foreign aid and corruption for my book THE GREAT CHARITY SCANDAL, I saw somewhere that he actually has managed to accumulate over $200m.
That might seem an impressive amount. But it seems to be fairly normal for politicians in that country. Here are South Africa's 10 richest politicians according to their declared wealth:
Cyril Ramaphosa ( $450 million
Tokyo Sexwale ( $200 million)
Herman Mashaba ( $100 million)
F. W De Klerk ( $46 million)
Saki Macozoma ( $60 million)
Jacob Zuma ( $20 million)
Thabo Mbeki ( $10 million)
Bulelani Ngcuka ( $10 million)
Mamphela Ramphele ( $5.5 million)
Pravin Ghordhan ( $5 million)
This makes our own much loved former PM, Anthony Blair, look like a pauper.
What about the people?
As South Africa's lucky politicians have become richer than Croesus, have South Africa's citizens similarly prospered?
Here's chart of South Africa's GDP per capita compared to the world average and to a few other countries: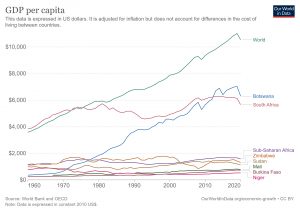 (left-click on chart, then left-click again to see more clearly)
It seems that the GDP per capita has been fairly stable. I was a little surprised as I thought the country was headed towards a Zimbabwe-style economic collapse. But then I looked at who owns the country's wealth. I came across this summary of a 2022 report from the World Bank:
"South Africa… is the most unequal country in the world, ranking first among 164 countries," the Washington-based institution, the World Bank, said Wednesday in a report, Inequality in Southern Africa.
So, while the GDP per capita seems to remained quite flat, the rich have grabbed most of the country's wealth leaving the poor ever poorer.
What about crime?
South Africa, with 36 murders per 100,000 people has the second highest rate of homicides in the world: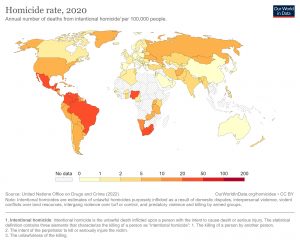 Socialist Venezuela with 39 per 100,000 comes top. To put the South Africa figure into context, Columbia is also at 36 per 100,000, Mexico at 25 per 100,000, the USA at 5.4 homicides per 100,000, the UK at 0.5 per 100,000, France at 0.7 per 100,000 and Spain at 0.8 per 100,000. So around 72 times as many people are murdered in South Africa than in Britain.
As far as rape is concerned, South Africa only comes in at number 6 in the world:
Country
Rape Rate
1
Botswana
96.87 per 100k
2
Lesotho
89.29 per 100k
3
Grenada
88.87 per 100k
4
Sweden
87.97 per 100k
5
Eswatini
82.73 per 100k
6
South Africa
70.22 per 100k
I could go on quoting all sorts of other statistics. But they all paint the same picture – a hopelessly misgoverned and corrupt crime- and poverty-ridden hell-hole where a small percentage of the people are looting all the money.
It's odd that we don't hear much about South Africa's current misery in the mainstream media and from all those who protested against the evils of apartheid. After all, I thought black lives mattered to the virtue-signalling, look-at-me, narcissistic, progressive, West-hating libtards.
A post-apartheid paradise for the Rainbow Nation?
Here's Simon Webb giving his take on the massive benefits South Africa has experienced from black rule: