weekend blog
Threatening us again
Britain's great health expert – the Mekon – has spoken:
Sajid Javid has warned us ignorant, unwashed, stupid plebs that, if we don't behave ourselves, then he'll lock us down again and again and again and …………. The Mekon claims that the coming lockdowns will be necessary because he is 'following the science' and the 'experts' insist that lockdowns are the only way to control the Fauci, Wuhan-lab-leaked Chinese plague.
Moreover, other European countries – Denmark, Netherlands and Germany – are also imposing new restrictions on people's personal freedoms as Fauci infections start rising again there. Austria seems to be going even further as they (from what I have read) are locking down any citizens who have not been vaccinated. Perhaps the Austrians will soon force the unvaccinated to wear yellow stars:
After all, Austrians are just Germans in disguise. They like following orders – befehl ist befehl – and probably have a few yellow stars left over from the 1930s.
Following the science?
There are at least two issues raised when the Mekon and his acolytes – Van Tam, Vallance and Whitty – claim they are 'following the science' with their new threats of lockdowns.
Firstly, apparently our government had plans for dealing with a major pandemic and nowhere in those plans was there any mention of using lockdowns and wrecking our economy and the livelihoods of millions. The lockdown option seems to have been something the 'experts' dreamed up as they panicked when Fauci Chinese plague infections went through the roof.
The second issue is that the only European country which didn't lock down its citizens – Sweden – appears to have an extremely low rate of Chinese plague hospitalisations per million of population:
(left-click on charts then left-click again to see very clearly in glorious technicolour)
Sweden also has one of the lowest rates of deaths per million of population from the Fauci plague:
When in a hole, keep digging?
I can understand that, at the start of the WuFlu outbreak, panicking politicians went down the lockdown route as they saw the chaos in Italy and then Spain with people dying in hospital corridors. But we have now had two years of Xi Pingpong's Wuhan-lab, biological weapon plague. Now we have a real-world case study – Sweden – which didn't go for lockdowns and yet had much better results than the lockdown countries.
If our rulers were genuinely 'following the science', an ignoramus like myself might think surely they would copy Sweden rather than just repeating their own failed lockdown policies? But if our rulers were to abandon their lockdown mania, that would mean admitting they got it wrong. That would mean there was no need to wreck our economy. That would mean hundreds of thousands of businesses were destroyed and millions lost their jobs for nothing.
That would mean exposing our rulers to ridicule for their stupidity and incompetence. So, even though Sweden has spent two years showing us how to manage the pandemic, our rulers are trapped into repeating their own failed policies.
When in a hole ………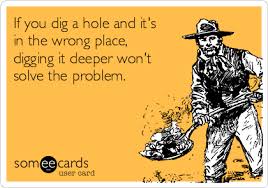 Manipulating the masses?
Incidentally, I've noticed that when it looked like things were going to go horribly wrong in Sweden, our mainstream media seemed to delight in heaping opprobrium on Sweden's more laissez faire approach to managing the Chinese plague. But now that the Swedish approach has proved to be the right one, our mainstream media seem to have gone very quiet indeed about Sweden's success.
It's almost as if our mainstream media are taking their marching orders from the government's Behavioural Insights Team (affectionately known as the 'Nudge Unit') and that current orders from our government are 'terrify the plebs into cowering obedience again'.
https://www.instituteforgovernment.org.uk/explainers/nudge-unit
Here's a definition of the word 'totalitarian' – relating to a system of government that is centralized and dictatorial and requires complete subservience to the state.
Lockdowns, mandatory vaccines, no jab no job, vaccine passports, no travel without the correct papers, demonisation of those who won't submit – this all sounds pretty totalitarian to me.