(Friday/weekend blog)
(on the advice of a reader, I have removed Friday's/weekend's blog about my favorite religion)
So here's something else.
On Wednesday, I watched a video presentation from an organisation of which I'm a member and once spoke at – The Economic Research Council. The speaker this time was an Indian academic who has just written a book "HAS CHINA WON?"
One key idea in the book is that a society that develops and satisfies its population will usually outperform a society that is sclerotic or a society that is tearing itself apart. Hence during the Cold War the USA outperformed the sclerotic, centrally-controlled Soviet Union.
But today we have  an increasingly wealthy, nationalist and aggressive China which has taken over 600 million people out of poverty in just 30 years confronting an America which is tearing itself apart over identity politics and the left's fanatical hatred of Donald Trump. Unless the USA can stop its slide into anarchy, the answer to the question "HAS CHINA WON?"  must be "yes".
America tearing itself apart?
The BBC (Biden Broadcasting Corporation?) haven't said too much about the violent mobs of Biden supporters currently destroying several US cities. But the BBC have enthusiastically reported that six Democratic mayors have urged the US Congress to block the evil Trump administration from sending federal law enforcement agents to their cities.
The BBC don't mention that the federal law enforcement agents are being sent in to prevent the Biden-voting mobs, encouraged by Democrat mayors like Ted Wheeler from Portland (Oregon), from burning the cities down.
In the letter, the mayors argue that the agents' presence, against the request of local authorities, is unlawful.
Among the signatories is the mayor of Portland, Ted Wheeler, where there have been over 50 days of riots and where federal agents have clashed with supposed 'anti-racism' protesters. (anyone with two brain cells will know that the protests have nothing to do with racism and everything to do with trying to overthrow Trump)
The mayors of Portland, Chicago, Seattle, Albuquerque (New Mexico), Kansas City (Missouri) and Washington DC signed a letter on Monday accusing the Trump administration of "egregious use of federal force".
"We call on Congress to pass legislation to make clear that these actions are unlawful and repugnant," the letter, sent to the leaders of both parties in the Senate and House of Representatives.
Here's the first page of the Democrat mayors' letter: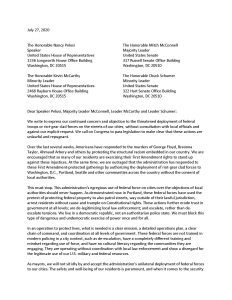 (to read this you left-click once, then left-click again)
And here's the second page:
And here is Fox News telling us what is really happening: