(Friday blog)
There were some great readers' comments yesterday. So, I thought I'd take the day off today and recommend you click on the title of today's blog to see what some readers wrote yesterday.
1. Why do so many migrants want to come to Britain?
Mainly so they can live off our generous benefits system while earning money on the side through working for cash or through criminality – theft, drug-dealing, fraud, burglaries etc. Britain has some of the most generous benefits for migrants in Europe. Note how few are interested in staying the countries they pass through on their way here.
Plus, for entertainment Britain will let them rape as many white girls as they want. Not only will the police allow them to rape and sodomise white girls, but some of those of their multi-cultural background will even join in the fun.
Here are the official figures for the number who came to the UK in 2019: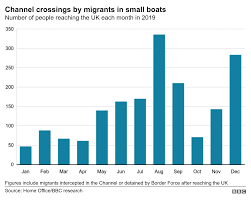 The real figure, which would include those not intercepted by the UK's Border Farce, will probably be five to ten or twenty or thirty times the official figure?
And what's happening this year? We don't know. But we do know that over 90 illegal migrants were ferried by our Border Farce into Britain in a single day. That's more in one day than in some months in 2019. And more than 470 have come in during the last week. So it looks like the migrant invasion is getting much worse and our Government and authorities are doing less than nothing to stop it. In fact, by providing free ferry services they're encouraging it.
2. Why is our border force taxiing them in and why is the French equivalent not taking them back to France?
Our Border Farce are instructed to pick up as many as possible and ferry them in safety to Britain. As for the French, they're only too happy to help the scum get to Britain. You think the French want all the parasitic, often criminal, often violent, often illiterate, often unemployable human garbage and detritus in their country?
3. What happens to them once they're over here? How are they looked after (food, accommodation, clothing, etc.)? I suspect they get looked after better than our lot.
Once they get to Britain, they're given accommodation, food and a weekly cash allowance while they spend months or even years claiming asylum using greedy solicitors all paid for by stupid British taxpayers. Also, many have been given debit cards already loaded with money by Soros-funded supposed refugee supposed charities as soon as they reach Europe to help them make the journey to Britain:
In 2019 the Home Office dropped its target to deal with most asylum claims within six months. The Migration Observatory says that only 25% now learn their fate in that time.
Less than half (I think) get asylum. It depends which country they claim to come from. You can see from the graph below that about half of those claiming to come from Iran and Eritrea are given asylum (the purple bars on the chart). But most of the rest stay here anyway (see question 4). Many of them throw away their passports and any identity documents making it almost impossible for them to be returned to whatever sh*t-hole they claim to have come from or actually have come from.
4. What proportion get returned to France?
Here's the good bit. Can you see the tiny dark red bars on the graph below?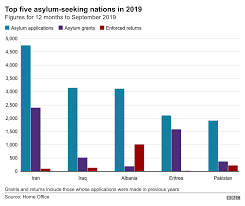 That's the number of "Enforced Returns". Pathetic, laughable and a total disgrace.
Lying Prime Minister Boris 'Liar' Johnson has told anyone hoping to come to Britain illegally: "We will send you back. If you come illegally, you are an illegal migrant and, I'm afraid, the law will treat you as such". But, of course, Johnson was just being a lying liar like all our other politicians who don't have to live in the violent, knife-crime-ridden, dystopian inner-city slums where illegal migrants tend to end up.
The Home Office has repeatedly stated that it is an "established principle that those in need of protection should claim asylum in the first safe country they reach". But government ministers have contradicted this by saying that passing through a safe country like France without seeking refuge does not disqualify someone from being granted asylum in the UK.
Basically – if they get to Britain, they can stay in Britain leeching off taxpayers, earning money through criminality and raping white girls for the rest of their lives.
Still, when Labour get back into power at the next election, there probably won't be any "Enforced Returns" at all and all illegal migrants will be given an amnesty. After all, remember that our Government (without telling us) signed the UN Compact for Safe and Orderly Migration
This, of course will encourage millions more to head our way.
Hopefully this short blog goes some way to answering the reader's four questions.
The Wuhan Song
And here, to cheer us up for anyone who hasn't already seen it, is my latest video – "THE WUHAN SONG". It would be helpful if readers could use social media – Facebook, Twitter, Instagram etc – to increase the number of people who watch the video: