(weekend blog)
Blackmail is a Turkish delight
You might remember that last week Turkey's magnificent president popped over to Brussels to give EU leaders a friendly ultimatum. Either they give Turkey loads more EU-taxpayers' money or else the Turks would unleash a tsunami of migrants into Europe: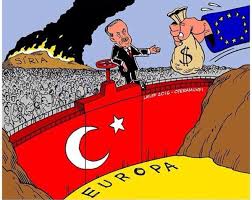 But things seem to have gone a bit quiet about the results of the Ottoman emperor's meeting with EU bosses. As far as I know, both the BBC and C4 News felt there was nothing newsworthy to report.
Well, here's what really happened. The European Commission is currently preparing to hand over an additional 500 million euros in supposed "aid" to Ankara to help with so-called "Syrian refugees" to ease growing tensions with the increasingly belligerent and some might say "unhinged" Turkish regime.
Apparently, the €500m will 'complement' the 6 billion euros that already has been planned to be disbursed to the Turkish regime under the 2016 EU-Turkey agreement. The money will supposedly be used to finance programmes implemented by NGOs to aid the 3.6 million migrants currently being housed in Turkey…..
I wonder whose bank account the €6bn went into? And I wonder whose bank account the latest €500m will go into?
They're about as Syrian as my left buttock
As more and more reports come out, however, it has become increasingly clear that very few of the gimmegrants and rapemigrants who are attempting to cross into Greece from Turkey are actually Syrian.
Less than two weeks ago, CNN Greece reported on 252 persons who were arrested trying to illegally cross into Greece from Turkey. Of those who were arrested, 64 percent were Afghani, 19 percent were Pakistani, 5 percent were Turkish, 4 percent were Syrian, 2.6 percent were Somalian, and those from Iraq, Iran, Morocco, Ethiopia, Bangladesh, and Egypt comprised 5.4 percent of the arrestees:
Afghanistan, 64%
Pakistan, 19%
Turkey, 5%
Syria, 4%
Somalia, 2.6%
Iraq, Iran, Morocco, Ethiopia, Bangladesh, Egypt: 5.4%
I have a feeling someone is being well and truly screwed: