(Tuesday blog)
McNamara's Morons
I don't think I've told you about "McNamara's morons". During the Vietnam War, the US military was desperately short of manpower. Large numbers of young men didn't want to get killed and so found ways of avoiding the draft. So, Secretary of Defense Robert McNamara had a cunning plan. It was called "Project 100,000". The idea was to accept 100,000 men a year who had much lower intelligence levels than the US military had been prepared to accept in the past.
By the end of the war, McNamara's program had taken 354,000 such men into the armed forces — 71% in the Army, 10% in the Marine Corps, 10% in the Navy, and 9% in the Air Force. Among the troops, these men were often known as "McNamara's Morons" or "the Moron Corps" or "McNamara's Boys".
Many of these men were illiterate and, in spite of intensive training, many never learned how to shoot a rifle or throw a grenade and were more of a danger to themselves and their fellow soldiers than they were to the enemy.
Now the US military will not accept anyone with an IQ of below 85.  The average IQ in most advanced Western countries is, of course, around 100 and about 16% of the population will have an IQ lower than 85: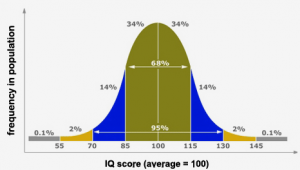 Falling IQs?
Here's a small part of a report from the Times:
The IQ scores of young people have begun to fall after rising steadily since the Second World War, according to the first authoritative study of the phenomenon. The turning point marks the end of a well-known but poorly understood trend known as the Flynn effect, in which average IQs have risen by about three points a decade for the past 60 or 70 years."
The decline, which is equivalent to at least seven points per generation, is thought to have started with the cohort born in 1975, who reached adulthood in the early Nineties.
Nothing to do with immigration
Scientists have given many excellent explanations as to why IQ levels appear to be falling. Some say that the deterioration could be down to changes in the way maths and languages are taught, or to a shift from reading books to spending time on television and computers.
Others have argued that the nature of intelligence is changing in the digital age and cannot be captured with traditional IQ tests.
The one issue nobody dares mention is immigration – could falling IQ levels in any way be linked to the fact that we may be importing millions of migrants from countries with much lower average IQs than we have in the West?
This takes us to a chart I have used many times which suggests that there are significant differences in IQ levels between different parts of the world and it links average IQ levels to GDP per head: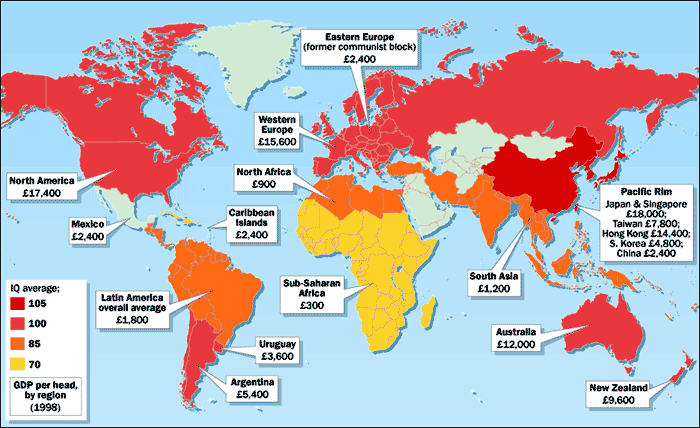 If we go back to McNamara's Morons and if we believe the figures in the above chart, then it looks likely that we are importing many people with IQs close to or even below 85. This means their IQ is too low for them to function in an advanced Western society however much training and help they are given.
And here's a rather boring, but worryingly factual, video from Germany in which we get two rather conflicting views of the 'benefits' migrants will bring to Germany. One 'expert' thinks the migrants are highly educated and will make a huge contribution. The other explains why most of the millions imported by Merkel – ("Merkel's Morons"?) – will be a massive burden on German society for their whole lives not to mention all the many tens of thousands of crimes and rapes they'll commit every year: