(Wednesday blog)
The escape from tribalism
Lots of clever people – much cleverer than me – have written endless scholarly works about why the West has been so successful, while most of the countries in Africa, the Middle East and Latin America are total sh*tholes. Although, of course, all these smart people wouldn't use the word "sh*thole".
At the risk of generalising, might I humbly suggest the one reason why the West has provided a good life for its citizens while the rest of the world is a poverty-stricken, excrement-covered, miserable disaster?
The success of the West has been its triumph over tribalism, our ability to transcend narrow sectional interests through rational discourse, something that never really caught on in the Middle East, Africa and many other countries split along tribal lines. Our belief in a liberal order with all equal before the law and all eligible adults able to express their political choice through the democratic process has been the fruit of abandoning tribalism.
Moreover, until recently the West made good attempts to tame the excesses of capitalism through progressive taxation and re-distributive policies and embraced the mixed economy of both private and public. We also recognised the cumulative advantages of wealth and made some headway with equality of opportunity. On measures such as GDP per capita, a good enough guide to countries living standards, the first 37 places are mostly western democratic countries. All this made possible because we abandoned narrow sectional tribalism in favor of working together to try to improve our lot.
This is not a picture of contentment, far from it. But it has given us a lot better life than the inhabitants of the world's tribalist sh*tholes.
Back to tribalism
But this is breaking down. Why? Because in the name of multi-culturalism and diversity, our rulers are importing the very tribalism we so successfully rejected: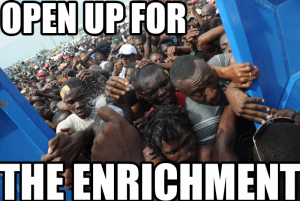 We are moving back to tribalism in two ways. Firstly, our rulers are importing millions of Third-World people whose only experience of life is living in tribal (and thus usually failed) societies. As is clear, most of these people are unable to adapt to our non-tribal, democratic, largely law-abiding, non-violent, tolerant lifestyles.
Moreover, our previous collaborative approach to solving problems is being replaced by much more antagonistic attitudes. Whereas in past times we emphasised shared values and sought equality before the law, equality of opportunity and so on, frustrated with the failure of every socialist experiment around the world and their lack of progress in the wealthy West, the Left has become increasingly intolerant and has embraced a toxic form of tribalism based on group characteristics such as gender, race and sexuality. Rather than equality, they demand special treatment, recognition of supposed grievances and affirmative action. We are told that this would lead to greater social harmony. In fact, stoking such grievances has actually led to increased, intolerance, resentment and mistrust.
So-called 'diversity', when pushed too far, leads to divisive polarisations, conflict between groups and a breakdown of social harmony. People talk, or rather shout, at rather than to each other. Rational discussion is abandoned and everyone seems aggrieved at something. What started as a university thing has escaped the box and now the Left are trying to stoke up antagonisms throughout society by convincing every group (except, of course, white males) that they are somehow a victim of someone else's oppression. White males are, as I'm sure you  know, always top of the list of 'oppressors' and our friends from the world's most tolerant and violent religion are always top of the list of the oppressed:
Incredibly, while stoking up tribal tensions between different groups, the Left supported by the liberal mainstream media manages to get away with blaming the Right for increasing social tensions.
This really is turning into a bit of a mess. So let's hope we can step back from the brink of total societal breakdown before it's too late.