(Thursday blog)
A 'good rape' in Germany?
First, I'd like to congratulate the 10 or 15 or 20 or more multi-cultural enrichers who recently raped an 18-year-old girl in Germany for hours. Unlike previous victims of multicultural enriching rapes:
the girl wasn't killed by these fine fellows after they had repeatedly raped her and sodomised her and hit her and kicked her. Clearly these 10 or 15 or 20 or more multi-cultural enrichers from the usual Third-World hell-holes are becoming much more civilised as they spend more time in the West and are adapting well to Western culture and values as they didn't murder their victim this time. Well done, lads. Maybe in 2,000 years or so you'll be able to function in a normal society? Or maybe not?
Incidentally, the 500 or so German patriots who marched in protest against this latest rape were outnumbered 3 to 1 by around 1,500 pro-rapefugee, open-borders libtards. So, next time you hear of German girls getting raped and beaten and murdered, remember this is what the majority of Germans want.
Trump's visit to Pittsburgh
Here's how the mainstream media wants us to see President Trump's visit to the victims of the Pittsburgh synagogue shooting.
CNN claimed "Protests as Trump visits Pittsburgh synagogue" and showed pictures like this: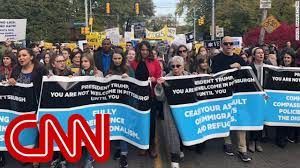 The Washington Post headline was "Trump's visit to Pittsburgh after synagogue massacre creates tensions in grieving city" and their main picture was:
And our very own 'unbiased' BBC claimed "Pittsburgh shooting: Trump visits synagogue amid protests" while showing this picture: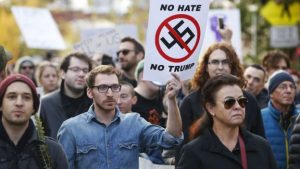 And there are loads of videos on YouTube from the main news channels showing the anti-Trump protests by the usual braindead, self-regarding, narcissistic, libtard, Hillary-loving snowflakes.
But here's the story the mainstream media don't want you to see – Trump being welcomed at the hospital treating the survivors: