(Tuesday blog)
I wanted to do a different story today. But it seems I should mention what looks like a competition among our 'Asian' friends to see how many can rape each white British girl they can get hold of. The latest record appears to be a young lady who was sexually abused by over 100 of our multi-cultural enriching friends before the age of 16. But as far as the ruling elites are concerned, this girl's ordeal, and similar treatment of perhaps 30,000 white British girls like her, are a price worth paying for the diversity and multi-cultural enrichment brought to us by our 'Asian' co-citizens.
Here are the latest members of the Rotherham Asian Rapists Society we should thank for bringing their colourful cultural customs to our once boring country:
And here are some other members of the Rotherham Asian Rapists Society we should be grateful to for their efforts to enrich us:
And here are members of the Rochdale Asian Rapists Society:
Thank you all for your contributions to life in Britain today. And here are some enrichers from the Newcastle Asian Rapists Society:
All of Britain thanks you for the sacrifices you made leaving your wonderful homelands to come to our once great country!
And let's not forget the fine efforts of the members of the Bradford Asian Rapists Society:
Or the Telford Asian Rapists Society: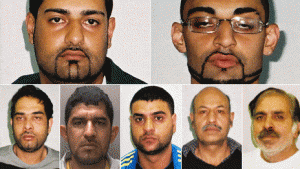 Or the Huddersfield Asian Rapists Society:
Ooops, I almost forgot the Oxford Asian Rapists Society's selfless contribution to diversity and enrichment:
Sorry, lads! You also did a great job – raping for Britain!
Though if there's one certainty – had the rapists been white men and the underage female victims 'Asian' then the whole thing would have been stamped out years ago. But as the perpetrators were 'Asian' and the girls white and as most of the rapes occurred in Labour-controlled cities and towns, the authorities were only too happy to look the other way.
By the way, South Yorkshire police (in whose area many of the worst rapes occurred) apparently have so little to do that they've appealed to the public to report supposed 'hate' incidents even if these aren't actually crimes: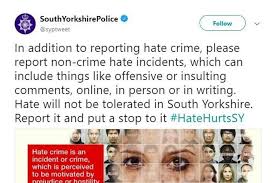 No wonder our ever more useless police have become a bad joke who are despised by much of the law-abiding population and seen as irrelevant by criminals.