(Friday blog)
After yesterday's latest Brussels humiliation of the hopeless, hapless, disaster-prone, bungling Remainer treacherous Theresa May, it's time to paraphrase Elizabeth Bennet from Pride and Prejudice and tell Adolf Merkel and the euro-eunuchs who hide cowering in fear behind Merkel's huge rear end: "You have insulted me in every possible way, and can now have nothing further to say. It's time for us to go!"
It's also time for the squabbling supposed Conservatives to display some backbone and some testicles.
Here's what the Tories need to do:
Put in 48 letters expressing 'no confidence' in the pointless prevaricator Theresa May
Replace the (IMHO) waste of skin May with election-winner Boris Johnson
Tell the Brussels Drunk and his boss, Adolf Merkel and the 26 cowardly political pygmies, who always obey what Germany orders, that Britain will be leaving the corrupt, wasteful EU on the agreed date in 2019 on WTO terms
Tell the Drunk, Merkel and the 26 cowards that Britain is open to considering anew proposals from the EU, but that Britain will no longer go grovelling to a bunch of mediocre, nobodies who have "insulted Britain in every possible way"
How anybody could want to remain part of the misnamed EU is beyond me. There is no European Union. There is just a reincarnation of the German Third Reich. Running the whole sordid mess is Angela Merkel who seems politically like a bastard child of Adolf Hitler and Erich Hoennecker:
In Brussels there's a useless drunk who isn't capable of stringing together a whole sentence without a drink: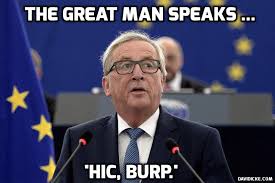 Yapping away behind Merkel and the Drunk, there's the puffed-up, arrogant necrophiliac French poodle Macron – a frontman for the globalist, banking elites:
And then there are the 26 cowards who follow Merkel's orders "befehl ist befehl":
These cowards have always surrendered to Germany and will always surrender to Germany.
It's time to end this farce!
It's time to dump May!
It's time to tell them to stick their precious Fourth Reich where the sun doesn't shine and become an independent country again!