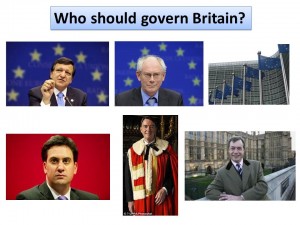 There has been much heat and noise about the supposed EU Referendum that honest, trustworthy, reliable David Cameron (shouldn't that be "slippery, lying, vacuous?" Ed) has promised for 2017, two years after he loses the 2015 General Election.
I think most people know we won't ever get an EU Referendum. Already the europhiliacs in the Lords, like Peter Mandelscum, are plotting how to defeat Cameron's EU Referendum bill as Mandelscum seems to believe the British public shouldn't be allowed to vote on such an important issue. Moreover, Barroso's bitch Nick Clegg and the believer in giant socialist superstates Ed MIliband are totally against allowing a referendum, in spite of Clegg claiming to support a referendum in a LibDem ad campaign before the 2010 General Election.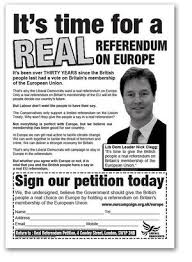 But were we to have an EU Referendum, what question should we be asked to vote on? The question our masters would choose to ask us would probably be something like "Do you want Britain to remain in the European Union?" That's pretty innocuous. It looks fair. And the result will, sadly for Britain, probably be a win for the status quo – staying in the EU. After all, most people tend to prefer the certainty of maintaining the current situation to the risk of major change.
However, we can thank the vice president of the European Commission, Viviane Reding (who probably expects to take over when Barroso steps down in October)for telling us the question the EU Referendum should be asking. In a recent speech, Ms Reding (a politician from the Lilliputian state of Luxembourg) made her position very clear: "We need to build a United States of Europe with the Commission as government and two chambers – the European Parliament and a "Senate" of Member States."
Mrs Reding's vision, which is shared by many in the European institutions, would transform the EU into superstate relegating national governments and parliaments to a minor political role equivalent to that played by local councils in Britain. Under her plan, the commission would have supremacy over governments and MEPs in the European Parliament would supersede the sovereignty of MPs in the House of Commons.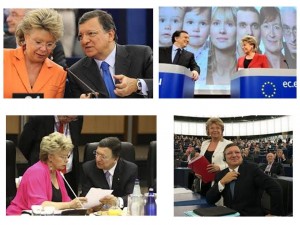 So the question we should be asked is actually: "Do you want Britain to continue to exist as an independent country?"
If we were asked that question, there would be a massive vote to get out of the corrupt, wasteful EU as fast as possible.
We will not get an EU Referendum from the ConLibLab ruling elite. So, what we are really voting on in every election – council, EU, General Election – is not the economy. After all, Labour doubled our national debt from £350bn to £700bn and then the useless, financially-incontinent Coalition will have doubled it again from £700bn to £1.4trn by 2015. That suggests there's not much difference between the economic policies/incompetence (delete as appropriate) of any of the three major parties.
What we are voting on in every election is in fact the massively important "Do you want Britain to continue to exist as an independent country". And that's why we should vote UKIP at every opportunity.