A few days ago, I wrote a piece pointing out that official government statistics showed that M*slims were much less likely to be in work (or be intending to work) than all other groups in Britain and I wondered whether there could be a link between each country's social costs and the size of their M*slim population http://www.snouts-in-the-trough.com/archives/7748
Following that, a reader contacted me with this link  http://www.parliament.uk/briefing-papers/SN04334.pdf  It's a Government analysis of Britain's prison population. On page 11, the report looks at the percentage of the prison population from each religion and the proportion of that religion in the general population. I've done a simple graph of the results.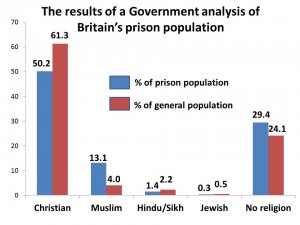 This shows that almost all the main religions represent a lower proportion of the prison population that they do of the general population. There is just one exception – M*slims. Although M*slims only represent around 4% of the general population, they make up over three times as much (13.1%) of the prison population. The only other group that make up a higher proportion of the prison population than they do the general population are those who profess to not belonging to any religion. But with them the difference is much smaller than it is for the M*slim population.
This means (and could the politically-correct who hope to discredit me as a racist and an Islamophobe and things like that please note that these are official government figures, not something I've concocted) that a person from Britain's M*slim community is three times more likely to commit a crime that merits a prison sentence than anyone from any other religious group and even than anyone who doesn't belong to any religion. That's a pretty frightening statistic. It's odd that such important information never seems to be mentioned by our main news media like the BBC.
It's not about the money money money – I occasionally exhort readers to buy my books to show support for this website. Some readers apparently believe that this is because I want more of their money. Honestly, the opposite is true. It really makes no difference to me if I sell another 20, 30 or 50 books. We're talking peanuts. It's more a matter of pride. Any idiot can write a blog where they spout inanities day after day. I really work quite hard to find things that could be of interest to readers and which may not have been reported by the mainstream media. I have now written over 1,200 blogs of about 600 words each  – that's over 720,000 words – more than 10 full-length 70,000 word books. I realise there is some repetition, but I try to keep my blog fresh.
A few years ago I was in contact with a journalist who did a weekly column for a national newspaper (The Observer) and he admitted that he sometimes found it hard to find something to write about each week. I blog daily (often from thousands of miles away from the UK and often with dreadful Internet connections) so I have to work quite hard to find new subjects for each and every day and new diagrams and charts to show what I've found. So, I would just like to think that people would show their appreciation by buying my books. It's not about the money money money. Hope that's cleared the air.