Wednesday/Thursday blog
The 'miracle vaccines' lie exposed?
Here's a great (and quite short – 12 minutes) video by Dr John Campbell.
(And yes, before you all start throwing rocks at me, I do realise that he is doctor of nursing and not a fully qualified medic. However he has written several textbooks, has taught in many countries, is extremely knowledgeable and has consistently produced excellent quality, highly-informative videos throughout the pandemic)
In it he explains how the risk/benefits of the 'miracle' vaccines has changed since the more infectious but much less pathogenic Omicron variant of the Sino/American lab-leaked plague became the dominant variant. The figures were apparently presented to the Joint Committee on Vaccines and Immunisation (JCVI) in October 2022 and Dr Campbell expresses his incredulity that the JCVI hasn't changed its advice about the mRNA vaccines.
I suspect the JCVI and health bureaucrats and politicians have painted themselves into a corner with their two years of propaganda about the vaccines being 'safe' and 'effective'. So they can't now admit that certain groups shouldn't get the 'miracle' boosters. If they did admit this, then they would also be admitting that their vaccines aren't 'safe' and aren't 'effective'. So our rulers continue with their now discredited narrative about the supposed (but non-existent for most people) benefits of their vaccines.
Here's Dr Campbell:
What about the great Climate Change lie?
That brings us to the other great lie being propagandised against us – the lie that human activities, rather than natural cycles, are causing the Earth's climate to warm with potentially catastrophic consequences for humanity. This is, of course, complete nonsense. I try to show this in my book THERE IS NO CLIMATE CRISIS. And people like Tony Heller on his realclimatescience.com, Paul Homewood on notalotofpeopleknowthat blog and the wattsupwiththat.com website continually expose how every claim made by the climate catastrophists is belied by the evidence.
But once again, our rulers have painted themselves into a corner with their 30-40 years of climate doom-mongering. So, even as ever more evidence mounts proving that man-made climate change is the greatest scientific and economic blunder in human history, our rulers are trapped by their own lies and will destroy our economies and our lifestyles to achieve their economically-suicidal 'net zero'.
I know its a cliché, but John Maynard Keynes famously said: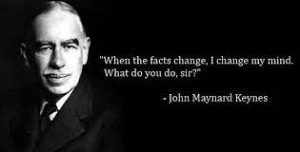 Unfortunately for us, even when the facts change, our rulers and bureaucrats and all their money- and power-grabbing cronies continue with their erroneous policies as they're afraid of admitting that they can have made a mistake. And we're the ones who suffer.