weekend blog
"Massive, devastating" sanctions?
As Mad Vlad the Bad's tanks roll across Ukraine, the West's leaders have issued bloodcurdling threats about the supposedly "massive" and "devastating" sanctions they will impose on Russia. The UK for example, has temporarily frozen the London assets of five Russian banks, taken some sort of action (I'm not clear what) against three rather wealthy Russians and has banned Aeroflot flights from Moscow. Oh, and the UK has sent a few hundred troops to a couple of countries that are in no way even threatened by Russia.
Meanwhile, the EU's response has been even more pathetic. The EU hailed a 2am agreement on a "massive" package of measures in punishment for the Ukraine invasion, including a freeze on assets and a block on Russian banks' access to European financial markets.
But there is an exemption for Moscow's main source of revenue – energy exports – which means its banks will still enjoy lucrative revenues from gas and oil sales. And Germany, France and Italy opposed a UK request to shut Russia out of the SWIFT international payments system – despite Ukraine saying the West would have "blood on its hands" if it refused.
The German finance minister, Christian Lindner, admitted Berlin refused to go further because of "a high risk that Germany will no longer be supplied with gas or raw materials".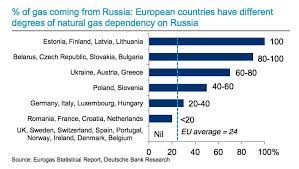 And Olaf Scholz, the German chancellor, said he opposed Russia being excluded from SWIFT, following the EU discussions giving the following cowardly bureaucrat's weasel-worded excuse: "It's very important that we decide on measures that have been prepared in recent weeks and reserve everything else for a situation where it is necessary to do other things as well."
Vlad and Xi take over the world?
With Russia's Mad Vlad and China's Xi Pingpong getting into bed with each other, the world's centre of power has suddenly switched from Washington/Europe eastwards. Russia and China make an almost perfect partnership – Russia's vast underpopulated territory contains almost unlimited amounts of natural resources and China needs those resources for its massive manufacturing sector.
As they bluster and threaten Putin, our leaders don't seem to understand their increasing irrelevance. Here, for example, are US pharmaceutical imports by country;
(left-click on image and then left-click again to see more clearly)
This may not look too bad as China and India are selling similar amounts of pharma products to the US. But this chart doesn't take into account the fact that around 80% of the materials used in Indian pharma exports come from China. Moreover, the US for example, no longer makes any antibiotics. The last US plant making antibiotics closed around 2014, if I remember correctly.
Or we could look at semiconductor production volumes: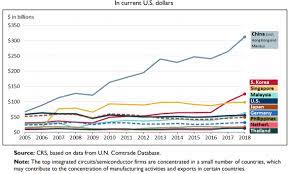 (left-click on image then left-click again to see more clearly)
A little bit worrying?
In fact, whatever raw material or product you look at, you'll see that the West is depressingly dependent on either Russia or China.
One could get the impression that, while we were obsessing over how many genders there are and what pronouns were acceptable and how to reach the economically-suicidal, ludicrously-unnecessary 'net zero', Russia and China were taking over the world.
Can the West save itself?
There is, of course, another scenario which could play out. Maybe Putin has overplayed his hand? Perhaps a messy outcome in the Ukraine may lead even some of Putin's closest cronies to wonder if they might be better off without him. If Putin's position looks threatened, no doubt China's Xi will distance himself from Putin to stay in with Putin's successor in order to have continued access to Russia's gas and other natural resources.
There is even the possibility that the Ukraine invasion will lead to the democratic West reassessing its priorities and deciding that committing societal and economic suicide wasn't such a smart idea after all. Then the West could dump all the greeny, woke, virtue-signalling, transgender nonsense and rebuild its supply chains to become less dependent on Russia and China.
It's been a pretty exciting week. I wonder what next week will bring?