Wednesday/Thursday blog
Are we getting Global Warming under control?
I'll try to keep it short today as I imagine, when you hear the latest great news from "scientists", you'll all want to rush out and celebrate.
According to "scientists": 'Worst-case' climate change scenarios with up to 4ºC or 5ºC of warming are no longer possible', a study has suggested.
Lead author Roger Pielke Jr, professor of environmental studies at Colorado University Boulder, said: "This is cautiously optimistic good news with respect to where the world is today, compared to where we thought we might be. The 2ºC target from Paris remains within reach."
Yipeee! We're saved! We're not all going to fry in increasingly hot summers or drown due to 40-foot sea-level rises or flee to the Antarctic which was predicted to be the only habitable continent by the end of this century – in just 72 years.
https://uk.yahoo.com/news/worst-case-climate-predictions-are-no-longer-plausible-new-study-suggests-165557354.html
Unadulterated nonsense?
Of course, like pretty much everything written about supposedly catastrophic anthropogenic climate change, this latest article is utter nonsense.
For a start, CO2 emissions have kept increasing, though there might be a small downward dip during the Wuhan Chinese lab-leaked plague:
(as usual, left-click on chart and then left-click again to see more clearly)
Moreover, atmospheric CO2 levels have also kept going up: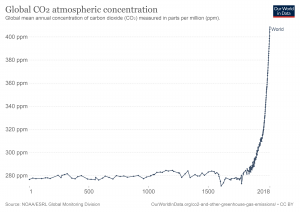 Anyway, the actual level of warming has always been below the minimum warming predicted by the 40 or so main climate models normally used to terrify us into submission by the new lords of climate:
The blue (satellite data) and green (balloon data) lines are the actual temperatures. The mass of lines above them are the main climate model predictions. So when "scientists" claim: 'Worst-case' climate change scenarios with up to 4ºC or 5ºC of warming are no longer possible', this total nonsense. The chart above shows that temperatures were nowhere near even hitting the minimum predictions of the "scientists".
The article concludes: "The analysis joins a growing consensus of independent groups around the world whose work finds that the most extreme climate scenarios are unlikely to occur this century, and mid-range scenarios are more likely." But even this is garbage. Just look at the chart of real temperatures vs the climate models. There is no chance of temperatures getting anywhere near even the "mid-range scenarios"
It was climate change wot destroyed Zimbabwe's agriculture
And while we're on the subject of ludicrously inaccurate climate change articles, here's a stunner from the Independent: "Climate crisis forcing Zimbabwean women and children into prostitution"
https://www.independent.co.uk/climate-change/news/climate-crisis-zimbabwe-women-prostitution-b2015677.html
Obviously I must be a racist, white-supremacist, neo-colonialist, historically-ignorant fool. Why? Because I thought that Zimbabwe's appalling rural poverty was caused by the catastrophic stupidity, venality and greed of Zimbabwe's Mugabe government forcing out productive white farmers and handing their land over to Mugabe's utterly corrupt cronies in crime – a policy that turned Zimbabwe from being the breadbasket of Africa to one of Africa's worst basket cases – and there's quite a bit of competition for that prize.
Silly me. The collapse of Zimbabwe's rural economy, was actually, the Independent reliably informs us, caused by climate change.
You learn something new every day when you read such reliable media like the Independent.